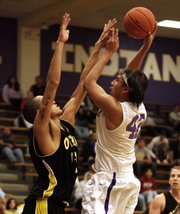 For Haskell Indian Nations University sophomore guard Sam Edwards, the difference between elation and dejection was less than six seconds of game clock.
Edwards forced a turnover with 8.3 seconds left and then missed a layup with 2.5 seconds remaining Wednesday night at Coffin Sports Complex, where Haskell remained winless for the season, losing to Ottawa University, 64-63.
"I was going to look inside (to D.J. Fish), but I saw a drive, and I just couldn't convert," Edwards said. "I should have used the backboard. I didn't use the backboard, and it just rolled off the rim."
Fish led Haskell (0-5) with 14 points, 11 rebounds, four assists and also had a team-high six turnovers. Haskell's 6-foot-10 Terrance Little Thunder watched from the stands, ruled ineligible by the NAIA. Little Thunder played two games last season and sat out the rest of the year because of a knee injury.
"They granted him a medical hardship, which gives him a fifth season," third-year Haskell coach Ted Juneau said. "What they did not grant was a sixth year because he had red-shirted. We're appealing that. We'll see what happens."
Little Thunder's size could have come in handy. Junior power forward Chris Tate (18 points, nine rebounds), listed at 6-9, and 6-10 junior center Jake Carter (12 points, seven rebounds, three assists) did most of the damage for the visitors. Former Free State High guard Kyle Schreiner, a junior, contributed seven points, two assists and four steals for the Braves (1-3).
Copyright 2018 The Lawrence Journal-World. All rights reserved. This material may not be published, broadcast, rewritten or redistributed. We strive to uphold our values for every story published.