The blanket is gone. Surely, it is gone.
As Jennifer Goode stares at the large hole that flames left in the roof of her Aberdeen South apartment building last month, she figures the chances that her childhood blanket is still intact are between slim and none.
But she would like to know for sure.
Photo Gallery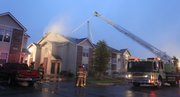 Aberdeen Apartments South fire
Goode is among at least three victims of the Oct. 8 fire that have been forced to wait and wonder whether the early-morning blaze left any bits and pieces from their old lives.
Five weeks after the fire, Goode and many of her neighbors have not been allowed by Aberdeen officials to enter their old apartments for any amount of time to survey the scene and collect belongings.
"I had that blanket since I was born," said Goode, a college student who lived at the complex with her sister. "It probably wasn't salvageable. But even if I could have just taken it and put it in a box, I don't know, just to have it.
"What I really wish is that I could just get some closure on the whole thing."
A few answers also would be good, residents said.
A manager with Aberdeen South read a short statement when asked about the situation by the Journal-World: "Our residences' safety is our priority," local manager Nason Kloppenborg read. "We have worked closely with all parties involved to ensure that the victims of the fire are allowed entry at the safest and earliest time."
Kloppenborg declined to answer other questions.
But residents said they have been told by the company that the delay is being caused by Aberdeen South's need to create a legal waiver for residents to sign, in order for the apartment company to not be held liable if residents are injured while retrieving the items.
Some residents are having a hard time believing that it has taken more than a month for the company to come up with such a document. Aberdeen South, according to its Web site, is operated by Campus Apartments — the largest privately owned student housing company in the nation, which has been in business since 1958.
"I have a hard time believing they've never had to deal with an apartment being damaged before," said Darin Brunin, whose apartment also was destroyed in the fire. "You would think they would already have a plan in place to deal with something like this."
The apartment building — which caught fire after being struck by lighting — had eight units, and at least six were occupied at the time. Three residents have told the Journal-World they have not been allowed back in since the fire. It wasn't immediately clear whether the other residents also had been barred from entering.
"It is very frustrating because I know there is stuff in there that could have been salvaged even just a couple of weeks ago," said Kim Springer, who said she was the only one of the fire victims who had renter's insurance.

But the apartment complex's roof is largely gone, which means all the units have been exposed to the weather. That has dimmed the hopes of residents that there will be anything left to save.
"It sure seems like it has rained a ton, lately," said Brunin. "Every time it rains, you get depressed because you get a picture in your mind of certain items just getting soaked."
The building has been surrounded with a chain link fence to keep people out. Fire department officials reported shortly after the blaze that the building would be turned back over to the property owners because much of the interior of the structure was not damaged by fire, but rather suffered smoke, water and debris damage.
Residents did say that Aberdeen officials treated them well in the hours following the fire. All three said they were quickly put in other Aberdeen apartments. They continue to live there.
Information on when the burned building may be demolished or rebuilt wasn't available Wednesday afternoon. In the meantime, the fire victims see it and wonder.
"It is extremely hard," Goode said. "There are days that I cry, there are days that I get mad, days that I just laugh about it. It has been a whole grieving process, and it has been tough because I'm reminded everyday that I can't get in there."
Copyright 2018 The Lawrence Journal-World. All rights reserved. This material may not be published, broadcast, rewritten or redistributed. We strive to uphold our values for every story published.