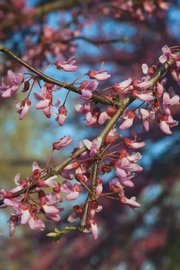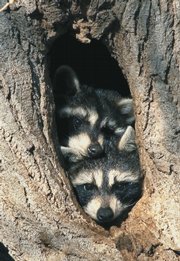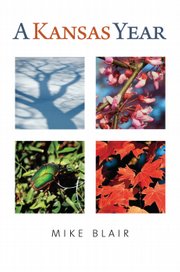 Mike Blair once nearly was run over by a moose.
It was in Lane County, southwest of Hays. A wayward moose from Wyoming had made its way south — much farther than its usual territory — and Blair took to the prairie with his camera, because that's what he does.
"He seemed so docile," Blair recalls. "I let my guard down."
Everything turned out OK. But Blair learned — or perhaps relearned — an important lesson.
"You always have to give them space," he says.
These are the sorts of things you learn when you spend most of your time outdoors. Blair, who works in communications for the Kansas Department of Wildlife and Parks, imparts his love of Kansas nature and wildlife in the new book "A Kansas Year" ($24.95, University Press of Kansas).
The Pratt resident walks readers through the seasonal changes throughout the state, both through short essays and photographs.
"I've lived my life outdoors," Blair says. "My whole life since I was 6 years old, the average day has been outside playing, hunting, doing forestry or working in photography."
Blair, 55, grew up near Mound City, north of Fort Scott near the Kansas-Missouri line. He received a degree in forestry from the University of Missouri and worked managing trees in a 19-county district in Kansas.
He eventually began writing a syndicated column about the outdoors and taking photographs.
"I didn't own a camera until I was 25 years old," he says.
An avid hunter, Blair eventually grabbed his camera when hunting seasons were over.
"It gives you a good excuse to be out there all the time," he says.
He now has had photographs printed in more than 100 magazines.
Blair's favorite subjects are white-tail deer and water fowl. But he loves what he calls the "melting pot" of animals in the state, from porcupines to black bears to antelope, plus migratory birds.
"I rarely go out and say, 'Today I'm going to take a picture of a bluejay,'" Blair says. "They're matters of opportunity."
Blair says the key to good wildlife photography isn't expensive camera gear — it's being in the right place at the right time, with knowledge of your subject.
"My best advice is to know as much about the animal as you can," he says.
And knowing some of the tricks of the trade doesn't hurt. For example bringing along deer antlers to rattle together is a good way to call a buck to your location. And playing a tape of a barred owl call on a boom box will likely lure the reclusive, nocturnal creatures out of hiding.
Blair is an associate editor, photographer and videographer for KDWP. He spends much of his time now producing "Kansas Outdoors Today," a daily video journal of the state's nature and wildlife.
Even when it's hot or cold out, he wants to be outdoors.
"I can hardly wait to get out there," he says.
And he hopes his book inspires others to appreciate Kansas nature, even if they don't have time to travel around the state like he does.
"I don't care if you live in downtown Lawrence," Blair says. "Go in your backyard and see what's there. There are all sorts of things going on around us."
Copyright 2018 The Lawrence Journal-World. All rights reserved. This material may not be published, broadcast, rewritten or redistributed. We strive to uphold our values for every story published.