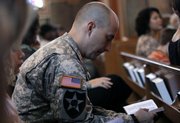 Fort Hood, Texas — A key U.S. senator said Sunday he would begin an investigation into whether the Army missed signs that the man accused of opening fire at Fort Hood had embraced an increasingly extremist view of Islamic ideology.
Sen. Joe Lieberman's call for an investigation came a day after classmates who participated in a 2007-2008 master's program at a military college said they complained to superiors about Maj. Nidal Malik Hasan and what they considered to be his anti-American views, which included a presentation that justified suicide bombing and telling classmates that Islamic law trumped the U.S. Constitution.
"If Hasan was showing signs, saying to people that he had become an Islamist extremist, the U.S. Army has to have zero tolerance," Lieberman, an independent from Connecticut, said on "Fox News Sunday."
Lieberman, chairman of the Senate Homeland Security and Governmental Affairs Committee, wants Congress to determine whether the shootings constitute a terrorist attack.
Army Chief of Staff George Casey warned Sunday against reaching conclusions about motives. "I think the speculation (on Hasan's Islamic roots) could potentially heighten backlash against some of our Muslim soldiers," he said on ABC's "This Week."
Dr. Val Finnell said Saturday that he and other classmates participating in a 2007-2008 master's program with Hasan at the Uniformed Services University complained about his comments, including that the war on terror was "a war against Islam."
Another classmate said Sunday that he complained to five officers and two civilian faculty members at the university. He wrote in a command climate survey sent to Pentagon officials that fear in the military of being seen as politically incorrect prevented an "intellectually honest discussion of Islamic ideology." The classmate requested anonymity because the investigation is ongoing.
Meanwhile, the FBI will probably look into whether Hasan attended the same Virginia mosque as two Sept. 11 hijackers in 2001 when a radical imam preached there, said a law enforcement official who spoke on condition of anonymity because the investigation is ongoing.
Imam Johari Abdul-Malik, outreach director at the Dar al Hijrah Islamic Center, confirmed that Hasan's family participated in services at the mosque in Falls Church, Va. He said the Hasans were not leaders there and their attendance was normal, and he did not know whether Hasan ever attended services there.
In 2001, Anwar Aulaqi was an imam, or spiritual leader, at the mosque. Aulaqi told the FBI in 2001 that before he moved to Virginia in 2001, he met with 9/11 hijacker Nawaf al-Hazmi several times in San Diego. Al-Hazmi was at the time living with Khalid al-Mihdhar, another hijacker. Al-Hazmi and another hijacker, Hani Hanjour, attended the Dar al Hijrah mosque in early April 2001.
The mosque is one of the largest on the East Coast, and thousands attend prayers and services there every week.
Faizul Khan, former imam of the Muslim Community Center in nearby Silver Spring, Md., where Hasan also worshiped, said he was not aware that Hasan had attended services at Dar al Hijrah but said it would not be unusual for Hasan to attend more than one mosque concurrently. Khan said he did not recall Hasan mentioning having been taught or preached to by Aulaqi.
Hasan was in critical but stable condition at an Army hospital in San Antonio. He was breathing on his own after being taken off a ventilator on Saturday, but officials won't say whether he can communicate.
Copyright 2018 The Associated Press. All rights reserved. This material may not be published, broadcast, rewritten or redistributed. We strive to uphold our values for every story published.