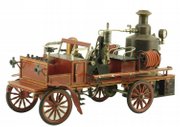 Although the news media is always telling us about the bad economy, there are some bright spots in the antiques world. An important collection of toys is being sold in a series of auctions by Bertoia Auctions of Vineland, N.J. At the two auctions held so far, several records have been set, including $149,500 for a 1912 toy fire pumper. Toys were made to replicate real full-size items, and this German-made Marklin toy powered by live steam was a copy of a real fire truck. It was in very good condition. Only five examples of the toy are known to exist, and this one is going back to Europe. In spite of the economy, the spring sale of this collection brought $4.2 million, and the fall sale took in more than $3 million. More sales of the collection are to come. The lesson for collectors is clear. Boy's toys have long been at the top of toy collectors' choices. Trains, cars, robots and mechanical banks are popular with grown men who remember them from their childhood. The best-of-the-best of any type of collection holds its value and can be resold at good prices. And it's not just items at the $100,000 level. Other records set so far this year include $8,250 for a Winking Cat glass candy container, $2,700 for a Daum Nancy toothpick holder, $8,500 for a 1955 Regency transistor radio and $23,444 for an 1890s fishing creel.
Q: My grandmother sold Larkin products door-to-door back in the early 1920s and received a ceramic platter as a prize. It's marked "Limoges China Co., Sebring, Ohio." The platter will be handed down to one of my children, but I'm curious about its history. What can you tell me about the Larkin Co. and Limoges China Co.?
A: John Durant Larkin (1845-1926) founded a soap factory in Buffalo, N.Y., in 1875. The first soap it made, Sweet Home Soap, was sold by street vendors. Larkin products eventually included several types of soap, cosmetics, perfume, pharmaceuticals and other items that were sold by traveling salesmen and through mail-order catalogs. The company began offering "elegant picture cards" as premiums in every box of soap in 1881. Later, handkerchiefs, towels, watches, silver-plated flatware, lamps, furniture and other premiums were offered. Sets of dinnerware were first offered as premiums in the 1893 catalog. The company went out of business in 1967. Don't be confused by the word "Limoges" on your platter. It isn't Limoges china from France — although Limoges china made by a French porcelain factory was offered as a Larkin premium in the early 1900s. The Limoges China Co. of Sebring, Ohio, was in business from 1900 until 1955. The company used various trade-names for its products during those years. It advertised pieces as "American Limoges" beginning in the late 1940s to avoid a lawsuit.
Q: I bought an old library table that's made of wood, but the grain was painted on. How was this done? Is it worth more than regularly finished furniture?
A: Grain-painting was a popular technique for decorating furniture in the 1800s. Many 19th-century American families couldn't afford furniture made of expensive woods like mahogany. So they painted cheaper wood, like pine, to imitate and sometimes exaggerate the veins, grains and figures of real hardwood. The result, when well done, is a furniture piece that's stylish and economical. In the 19th century, graining was achieved using two-tone painting, vinegar painting, mottling, sponging, stippling or feather painting. Several layers of paint were required to produce the desired effect. Sometimes a thin coat of opaque or semi-opaque paint or glaze was applied to soften the colors. Antique American furniture with its original paint can be very expensive. Removing the paint from a piece decreases its value and makes it harder to identify where it was made.
Q: My silver syrup pitcher with an undertray is marked "Quadruple/Van Bergh S.P. Co., Rochester, N.Y." Can you tell me something about the maker and age of my pitcher?
A: Van Bergh Silver Plate Co. was founded by brothers Frederick and Maurice Van Bergh in Rochester, N.Y., in 1892. It became part of Oneida in 1926 and moved to Oneida, N.Y. Your syrup pitcher is quadruple-plate silver, which means it was plated with four times the amount of silver as standard silver plate. Syrup pitchers were popular in the late 1890s.
Tip: If you live in a Northern state and you find gift packages left out in the cold by your front door, be careful. Freezing temperatures make glass and ceramics brittle. Bring the package inside and open it, but do not unwrap the contents until everything is room temperature.
Copyright 2018 The Lawrence Journal-World. All rights reserved. This material may not be published, broadcast, rewritten or redistributed. We strive to uphold our values for every story published.