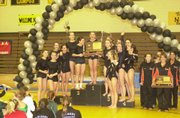 Newton — It took 13 years, but Free State High finally got the fall sports state title it had been missing.
Saturday, at the all-class state gymnastics meet at Newton High, the Firebirds outclassed the field to win the 2009 state championship.
Barely.
In what had to be one of the most bizarre finishes to a state competition in Kansas history, the Firebirds vaulted from what they expected to be third place into a first-place tie in a matter of seconds.
Free State and Newton High left the 2009 state meet as co-state champions with 103.525 points apiece.
After leaving it all out on the mats for hours, Free State's gymnasts sat quietly and reflected about what they could have done to improve their scores. At that point, they thought that rival Shawnee Mission Northwest (102.95) had won. But when the official announcement came, Northwest fell to third because of a late team deduction, and the public-address announcer divulged that the Firebirds had tied with Newton for the 2009 state championship.
"During the whole meet, we kind of had this feeling of wanting to give up," said senior Drue Davis, who won the individual all-around competition with 35.9 points. "We weren't having our best meet, and we really had stopped believing in ourselves. At the end, we knew that we didn't win, and we were so bummed out. But then they announced the team scores, and we heard that Northwest was third, and our jaws just dropped. We were speechless."
Because Northwest had fallen to third, Free State and Newton jumped up a spot and tied for first. Amazingly, after more than 150 girls had competed in four events, the two schools finished with the same team score, all the way out to the third decimal point.
"After all that, I don't know how two teams can tie out to the thousandth of a point," FSHS coach Kathy Johnson said. "But it happened. The girls are tickled, everyone's very excited, and it still says we're state champions. We're both getting trophies, and we're both getting first-place medals."
The championship is the fourth athletic state title in school history and the first to come before the turn of the calendar. The Free State gymnasts join boys swimming (winter 2004), baseball (spring 2006) and girls swimming (spring 2009) as the only teams in school history to have won a state championship.
For Davis, a senior who won the individual pole-vault title at the state track-and-field meet last spring, being a part of the first fall sports team to win a state championship was a feeling she could not describe.
"I'm still so shocked that it happened," Davis said. "Kelcy (Bowers) and I were almost in tears at the end, and then we found out we won. This is just insane. With it being such a big weekend for Free State, with soccer also playing for a state championship, I'm just so happy that we could bring this home for our school."
In addition to winning the all-around title, Davis was the 2009 vault champion. She outpaced all other competitors in that event with a 9.5. Davis also finished second in the beam (8.85), second on the floor (9.2) and eighth in the uneven bars (8.35).
Joining Davis in picking up individual medals at state Saturday were: Kelcy Bowers, who placed fifth in the all-around, fourth on the balance beam, sixth on the uneven bars and sixth in vault; and Aly Frydman, who finished sixth in the floor routine.
For Johnson, who has guided the Lawrence High gymnastics program to team state titles in the past, winning Saturday with Free State for the first time was an unbelievable thrill.
"This validates everything we've worked for," Johnson said. "These girls have really had to work hard to do this. The talent at LHS was just such natural ability, and these girls, while they're talented, had to work really hard to get this. And that's what makes this so special. Seeing hard work pay off is incredible."
Copyright 2018 The Lawrence Journal-World. All rights reserved. This material may not be published, broadcast, rewritten or redistributed. We strive to uphold our values for every story published.