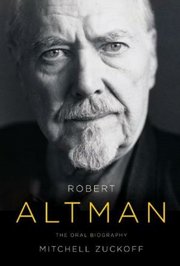 For Robert Altman, art imitated life. His life — like his best movies, such as "M*ASH," "Nashville" and "Gosford Park" — was filled with untidy passions, bitter conflicts, unwavering convictions, complete disasters and, on occasion, moments of captivating clarity that made all the drama seem worthwhile.
"Robert Altman: The Oral Biography" (Knopf, $35), instead, imitates Altman's art. Mitchell Zuckoff, who had been working with Altman on a book about filmmaking when the celebrated director died in November 2006, took those interviews and cross-cut them with conversations with just about every person who figured in Altman's life.
The result is much like one of Altman's movies: many voices overlapping, some in concert, some contradicting, all rushing headlong toward their version of the truth.
If you're looking for a factual biography of one of the most distinctive voices of American film, this may not be it; Zuckoff intentionally does nothing to resolve the contradictions between conflicting stories.
But it's those contradictions — and the passion with which the stories are shared — that makes the book a fun read, more like a cocktail-party remembrance than a scholarly study.
Some voices — like Elliott Gould, who relates how he and co-star Donald Sutherland tried to get Altman fired from "M*ASH" — are a strong presence one minute and gone the next.
Others flit in and out. Michael Murphy, the movie-handsome character actor who first worked for Altman while he was shooting the "Combat!" TV series in the early 1960s and turns up in most of his movies afterward, shares fascinating insights into their conflicted, four-decade working relationship.
Hollywood's brightest — Paul Newman, Meryl Streep and Cher, among others, chime in with revealing stories — mingle with supporting players and longtime friends in a movie-by-movie remembrance. (A guide to the book's interview subjects serves as a handy scorecard.)
Two recurring themes are Altman's fierce focus on the work, and his brutal treatment of people he feels have wronged him. Again and again, these colleagues — actors, producers, writers, friends — come back, drawn in by his charm and his knack for turning art into a conspiracy of creativity.
Casual fans of Altman's movies may feel lost in sections about movies they haven't seen (a few that I have seen, like Altman's dreamlike 1979 film "Quintet," I still can't unscramble). On the other hand, recollections of movies that strike a chord are so entertaining you'll think about adding them to your Netflix queue to see them again.
The oral-history-style format makes it easy to surf if your attention starts lagging.
The Altman portrayed in "Robert Altman" reminded me of a moment in "Nashville," the 1975 movie that many consider his masterpiece. When Keith Carradine sings the Oscar-winning song "I'm Easy" in a Nashville nightclub, every woman in the audience is convinced at first that he's singing to them. You get the sense in this book that that's how many people in Altman's life felt: that his passion and engagement and commitment, in that moment, were all for them.
And, in their stories about him, it's clear they'd be thrilled at the opportunity to have that feeling again.
Copyright 2018 The Lawrence Journal-World. All rights reserved. This material may not be published, broadcast, rewritten or redistributed. We strive to uphold our values for every story published.