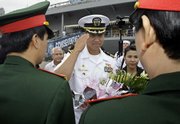 Danang, Vietnam — On the day his side lost the Vietnam War, Hung Ba Le fled his homeland at the age of 5 in a fishing trawler crammed with 400 refugees. Thirty-four years later, he made an unlikely homecoming — as the commander of a U.S. Navy destroyer.
Le piloted the USS Lassen on Saturday into Danang, home of China Beach, where U.S. troops frequently headed for R&R; during the war, which ended on April 30, 1975, when the southern city of Saigon was taken by communist troops from North Vietnam.
That was the day Le and his family embarked on an uncertain journey in a fishing boat piloted by Le's father, who was a commander in the South Vietnamese navy. They were rescued at sea by the USS Barbour County, taken to a U.S. base in the Philippines, a refugee camp in California and finally to northern Virginia, where they rebuilt their lives.
Le returned on the Lassen, an $800 million, 509-foot destroyer equipped with Tomahawk missiles and a crew of 300.
The ship and the USS Blue Ridge, the command vessel for the U.S. Navy's 7th Fleet, are making the latest in a series of goodwill visits to Vietnam, which began in 2003 when the USS Vandergriff paid a port call to Ho Chi Minh City, the former Saigon.
"I thought that one day I would return, but I really didn't expect to be returning as the commander of a Navy warship," Le said after stepping ashore Saturday. "It's an incredible personal honor."
"I'm proud to be an American, but I'm also very proud of my Vietnamese heritage," said Le, who spoke a few halting words in Vietnamese.
The ship visits represent the efforts of both the United States and Vietnam to develop their relationship as a balance to Chinese power in the region, without antagonizing Vietnam's massive northern neighbor.
Directly east of Danang are the Paracel Islands, where China and Vietnam are engaged in a sensitive territorial dispute over the archipelago, from which the Chinese drove out South Vietnamese troops in 1974. They are also wrangling over the Spratlys, another island chain believed to contain valuable oil and gas reserves.
When Le fled in 1975, only four of the eight children in his family made it out of the country. The others stayed in Vietnam until 1983, when the family was reunited.
Le has few memories of his three-day journey on the fishing trawler, which ended just as they were running out of food, water and fuel.
But he has vivid memories of the example set by his father, Thong Ba Le, who is now 69 and has never returned to Vietnam. After the family settled in northern Virginia, he took a job in a supermarket, where he worked his way up from bag boy to manager.
"I always wanted to be like my dad," Le said. "He persevered and overcame many challenges."
Copyright 2018 The Associated Press. All rights reserved. This material may not be published, broadcast, rewritten or redistributed. We strive to uphold our values for every story published.