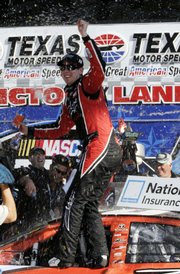 Fort Worth, Texas — Kyle Busch keeps extending streaks at Texas in search of a NASCAR first.
Busch won his fourth consecutive Nationwide Series race at the 11⁄2-mile, high-banked track Saturday. It was another dominating victory, coming a day after winning the fifth truck race in his last five starts in the series this season.
He will try to complete an unprecedented trifecta today and become the first driver to win all three of NASCAR's national series on the same weekend.
After taking the lead on the 11th of 200 laps, when he swung his No. 18 Toyota around polesitter Matt Kenseth in the first turn, Busch went on to lead 179 laps and win by 3.154 seconds over Casey Mears, who was filling in for Jeff Burton in the No. 29 Chevrolet.
"We're going to make it three tomorrow," Busch said.
Busch is 0-for-9 in Sprint Cup races at Texas, where finished 18th in April.
This is the 28th time in his career Busch has run all three series the same weekend. This is the seventh time this year, and twice he won two races — at California in February and Bristol in August — without being able to get the third. In California, he won the Camping World Truck Series and the Nationwide races before finishing third in Sprint Cup.
Kevin Harvick, the only other four-time Nationwide winner at Texas, finished sixth Saturday.
It was Busch's eighth Nationwide victory this year, and extended his points lead to 272 over Carl Edwards with two races left. Busch, who has won 29 times in 171 career Nationwide starts, only has to finish 15th next week at Phoenix to clinch the season championship.
Edwards, who had to start at the back of the field after making adjustments on the car during the impound period, finished ninth.
Jason Leffler was third, Kenseth fourth and Brad Keselowski fifth.
TENNIS
Federer, Djokovic to clash
Basel, Switzerland — Roger Federer will play Novak Djokovic in the Swiss Indoors final in a bid for a fourth straight title in his hometown tournament. Federer defeated childhood friend Marco Chiudinelli, 7-6 (7), 6-3, in one semifinal. Earlier, Djokovic saved three match points in rallying to beat Radek Stepanek, 6-7 (4), 7-5, 6-2.
GOLF
Mickelson takes HSBC lead
Shanghai — Phil Mickelson took the 54-hole lead in the HSBC Champions with a 5-under 67, setting up a Sunday matchup with Tiger Woods in the final World Golf Championship of the year.
Gaining even more confidence in his putting, Mickelson strung together three birdies over the final five holes to turn a two-shot deficit into a two-shot lead over the back nine Saturday at Sheshan International. He finished at 14-under 202.
Woods failed to make a birdie over the final eight holes for a 70, leaving him two shots behind. Woods was tied with Nick Watney, who holed a 50-foot eagle putt on the final hole for a 70.
OLYMPICS
Ticket sales postponed
Vancouver, British Columbia — Anyone hoping to grab some of the last remaining tickets for the 2010 Winter Games will have to wait until next Saturday.
Technical problems hit the ticket Web site and prevented the sale of any of the 100,000 tickets that were to be available at noon Saturday, said Renee Smith-Valade, vice president of communications for the Vancouver Olympic organizing committee.
BASEBALL
Twins keeping Cuddyer
Minneapolis — The Minnesota Twins have picked up outfielder Michael Cuddyer's $10.5 million option for 2011. Cuddyer hit a career-high 32 home runs to lead the team. He also had 94 RBIs and was sixth in the American League with 73 extra-base hits.
When slugger Justin Morneau went out due to a back injury in September, Cuddyer moved from right field to first base. He hit .352 with seven homers and 22 RBIs in the next 19 games as the Twins leapfrogged the Tigers and won the AL Central title.
The option is part of a contract Cuddyer signed in 2008. He will make $8.5 million in 2010 and be paid $33.5 million over the life of the four-year deal.
Putz, Pavano file
New York — Mets reliever J.J. Putz and Twins pitcher Carl Pavano filed for free agency Saturday. Putz became a free agent one day after New York declined his $9.1 million option and chose to pay a $1 million buyout.
A total of 120 players have filed for free agency since the World Series, and about 60 more are potentially eligible to file by the Nov. 19 deadline.
HORSE RACING
Zenyatta wins BC Classic
Arcadia, Calif. — Zenyatta won the $5 million Breeders' Cup Classic on Saturday, running her record to 14-0 in the most impressive effort of her career. The 5-year-old mare rallied from last in the early going and fought off Gio Ponti in the stretch to win by a length at Santa Anita, beating a loaded field of 11 males and becoming the first female to win the Classic in its 26-year history.
NFL
Law signs with Broncos
Englewood, Colo. — The Denver Broncos shored up their secondary Saturday with another veteran, signing cornerback Ty Law. The 35-year-old Law, who has been to five Pro Bowls, gives the Broncos five players over 30 in the defensive backfield that now sports a combined 20 Pro Bowl selections.
To make room, the Broncos waived defensive back Jack Williams. Law's signing also likely means reduced playing time in the nickel and dime packages for rookie Alphonso Smith.
NBA
Iverson leaves Grizzlies
Los Angeles — Disgruntled Memphis guard Allen Iverson returned to his home in Atlanta after receiving permission to leave the team to attend to personal business. Team owner Michael Heisley gave the four-time NBA scoring leader permission to skip the Grizzlies' game Saturday night against the Los Angeles Clippers following a 114-98 loss to the Lakers the night before.
Nets forward has swine flu
East Rutherford, N.J. — The New Jersey Nets say forward Chris Douglas-Roberts has swine flu.
Douglas-Roberts already had been sidelined because of flu-like symptoms. Nets president Rod Thorn confirmed on Saturday that Douglas-Roberts tested positive for the H1N1 virus.
Thorn says the player has been treated and the Nets are following all precautionary measures called for by the NBA.
COLLEGE BASKETBALL
Virginia center suspended
Charlottesville, Va. — Sophomore center Assane Sene has been suspended for Virginia's first three games for conduct detrimental to the team. Sene will miss the Cavaliers' season-opener again Longwood on Nov. 13, and games at South Florida and with Rider.
Copyright 2018 The Associated Press. All rights reserved. This material may not be published, broadcast, rewritten or redistributed. We strive to uphold our values for every story published.