On the street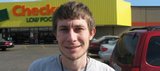 I do. It's a good experience to spend with friends.
Baldwin City — "Joe! Joe! Joe!" The crowd goes wild and yells Joe Bathke's name in rhythmic chants.
Bathke strolls up to the front of the bar and grabs the microphone. The music starts and he walks into the crowd. Seconds later, he is belting out a rock song. He dances. Sometimes on top of the bar.
"It's fun. It's my name," Bathke said. "I don't mind being called 'Karaoke Joe.' It's fun. I like when they chant my name before I sing. I like hearing 'Joe, Joe, Joe.' It's the first time I've had a nickname."
As the song winds down, Bathke receives thunderous applause from everyone at Hickory Creek Barbecue. An hour later, Bathke is again in front of the local crowd.
It's become his entertainment ritual every other Friday night.
"I guess you could say it's a hobby," the 41-year-old Baldwin City resident said. "Some people like to collect stamps, other people like to race cars and I like to sing karaoke. It's something I do in my spare time. It's a hobby I enjoy very much."
Since Hickory Creek began hosting karaoke last spring, Bathke has become a fan favorite.
"He really brings the electricity and fun atmosphere to downtown Baldwin City on Friday nights," Coy Weege said. "His taste of music is entertaining for all ages. He's fun to listen to and watch."
Bathke's wife, Leigh Anne, and her friends talked him into entering a karaoke contest for the Oprah Winfrey show. Unfortunately, his rendition of Guns 'n' Roses' "Welcome to the Jungle" wasn't a winner.
Hey, Joe — try this
About three years ago, the Bathkes attended a birthday party at a Kansas City, Mo., bar, where karaoke was center stage. He sang two songs — "Hard to Handle" by the Black Crowes and "Dirty White Boy" by Foreigner — giving karaoke a try for the first time.
"I sort of stepped it up from there and started doing it at more places," Bathke said. "There was nobody there that I knew, except the people from the party, but I got a couple of high fives and 'dude, you rock' comments."
Not only did he impress himself, but Bathke also surprised his wife.
"I had no idea that he had that in him," she said. "It was amazing. I knew he had been in a band in high school and I had recordings of his band. I knew he could sing, but I had no idea he could perform like he does."
During the past six months, Bathke has typically sung three songs, most of which are classic rock hits. Some of his favorites include ACDC's "Highway to Hell" and Jet's "Are you Gonna be my Girl." If he had it his way, he'd enjoy belting out some Led Zeppelin tunes. "Welcome to the Jungle," the song he might be best known for, began on a cruise ship. He chose it because nothing else caught his interest.
Not all of his songs are classic rock hits. Occasionally he will have fun with The Sweet's "Ballroom Blitz" or Katy Perry's "I Kissed a Girl."
"I love it when he does 'Ballroom Blitz,'" his wife said. "I don't know why, but I love it when he sings that song. I would like him to sing some slow, romantic ballad to his wife, but I know that won't happen. I also like it when he sings 'I Kissed a Girl,' because I think that's hilarious."
Most karaoke singers use the screen to read the lyrics, but Bathke never does.
"The first time, I did use the screen," Bathke said. "I knew the words, but it was the first time I ever tried it, so I did get away from the screen, but not as much as I would have liked. I enjoy songs that are up-tempo and aggressive. I like something with a good guitar solo that isn't too long."
Born to be wild
Bathke, the marketing communications manager at Burns and McDonnell, doesn't fit the role of a typical karaoke rocker.
"He is a low-key, mellow guy," his wife said. "He is the last person you expect to get up and perform. … It all changes when you put him behind the microphone."
When he was a teen, he sang and occasionally played bass for White Lie, a Southern California rock band.
"I actually am a little crazier now than I was back then, because when you're 20 years old, you have your youth going for you," Bathke said. "You're always trying to avoid not looking cool. Now I'm overweight, married and a father of two kids. There's no possible way I can look cool.
"I'm certainly not going to dazzle people with my voice," he said. "I can at least be entertaining for the crowd."
Copyright 2018 The Lawrence Journal-World. All rights reserved. This material may not be published, broadcast, rewritten or redistributed. We strive to uphold our values for every story published.