Photo Gallery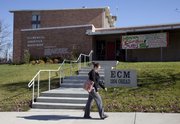 Ecumenical Christian Ministries
Standing outside of the Ecumenical Christian Ministries building, it looks much the same as it has to passers-by for the past 50 years, all salmon brick, smooth lines and a groovy presence.
Around it, change is everywhere. From the towering Oread Inn, to the improved look of Oread Avenue, the constant banging of hammers is an easy sign that something's happening.
Within the walls of the ECM, there's change brewing as well, though it's a lot quieter than the noise from across the street.
The changes, though, aren't even visible to the most careful eye taking in 1204 Oread Ave. The overworked kitchen still bares the brunt of too many dinners, heating and cooling still wildly inefficient, the parking lot still resembling a landmine test area.
No, these changes don't scream at you, but they're there, and they're huge.
The first is an extra $230,000 pledged toward improving the ECM.
Since August, a capital campaign set up by the ECM has raised nearly a third of the $832,000 it hopes to have for improvements to the heating and cooling system, parking lot, kitchen and Koinonia living quarters, as well as providing money to pay off debt for its newer roof and to create and reserve funds for operating costs.
The second change is that one of Lawrence's most memorable buildings is now a National Historic Landmark. Also a site recognized by the Kansas State Historical Society, the building was designated as a landmark last month because of its contribution to social change and distinctive architectural design.
Those changes have been affirming to the ECM, its board and the people who spend time there. says the Rev. Thad Holcombe, ECM's campus minister.
"'A building doesn't a ministry make,' we say. But a building does," Holcombe says. "The building, again, is a symbol for so many people who have been here, of something that is sacred to them because of them having a time of their lives when they kind of got a sense of direction and meaning and what they want to do. And it's still happening.
"We want to maintain and continue that."
On the upswing
Two years ago this week, whispers were circling that the ECM building might soon be a thing of the past. The developers of the Oread Inn were eying the land occupied by 1960s-era icon, an important crossroads between Kansas University and Lawrence.
This time a year ago, Holcombe and the folks at the ECM were getting used to the fact that the ECM finally owned the building after receiving the deed as a gift from the Presbyterian Synod of Mid-America.
Since then, the real work has begun. With ownership in place, Holcombe, the ECM board of directors and supporters have put in countless hours toward improving the building, which turns 50 next year.
First, Lawrence Realtor Tom Harper and KU assistant professor of history Leslie Tuttle helped cull together the paperwork and documentation to get the building on the National Register of Historic Places. They put to paper what many familiar with Lawrence already knew: The building has been a touchstone for political and social change for decades.
"What it did is it peeled off a couple of layers," Holcombe says of the necessary research for historical designation. "And Tom and Leslie said there's so much more there that we can pursue as far as social-political history, particularly in the '60s and '70s and '80s. That was just one of the benefits of this capital campaign ... it's good for us, regardless."
To this day, about 1,000 people, both on campus and off, use the building as a gathering place, and more than 200 student-run groups are attached to it, says Judy Keller, a consultant on the capital campaign.
To ensure that the structure will keep standing for another 50 years of meetings, Holcombe says basic improvements must be done. He says the ECM's goal is to make those fixes as cheaply and as environmentally friendly as possible.
Raising the money
Capital campaigns are typical for churches hoping to improve their buildings, but the ECM's status as both secular safe place and religious institution puts it in a unique spot, says Keller.
"In terms of the campaign, this is not a typical capital campaign, but it's not a typical organization either. ECM's strength is in the number and range of people from different perspectives that are involved and support it," says Keller, a vice president at Jeffrey Byrne & Associates. "Its doors are wide open for lots and lots of different people."
The campaign is being done in two phases, Keller says. The first, and current, is a "quiet" phase where the ECM looks to the friends it already has. After the first of the year, the campaign will turn up the volume, using more public means — parties, concerts and benefits — to ramp up contributions.
Keller believes that even with the down economic times, the ECM will reach its goal because of what it is — an original.
"It's not only a beautiful and historically significant building, but it's an incredible community of people," Keller says. "It's a beautiful facility, but it's also a group of compassionate people that are committed to social justice and open, tolerant exploration of faith. So, I really think of it as sort of an example of the best of Lawrence."
Copyright 2018 The Lawrence Journal-World. All rights reserved. This material may not be published, broadcast, rewritten or redistributed. We strive to uphold our values for every story published.