Photo Gallery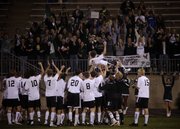 Free State soccer 2, Dodge City 0
State soccer final
Driving directions for those interested in traveling to the Blue Valley District Soccer Complex to watch Free State take on Washburn Rural at 2 p.m. today:
• Take K-10 east to 435
• Take 435 east to 69 South
• Take 69 South to 135th Street (Exit 81)
• Right on 135th to Switzer
• Right on Switzer (complex on lefthand side)
Driving Directions to the Blue Valley District Soccer Complex.
Overland Park — Shortly after his team's 2-0 victory against Dodge City in the Class 6A state semifinals on Friday, Free State High boys soccer coach Jason Pendleton conducted an informal poll of his players.
"Come on, raise your hand if you really thought, at the beginning of the season, that we'd be playing for the state championship," Pendleton asked.
No hands went up.
"I kept mine down," junior defender Tony Libeer said. "We always joked about it and that was our goal but none of us actually thought it would happen. This is amazing. I can't believe it yet. I'm honestly still in shock."
That fact is very much a reality for the Firebirds, who recorded their 12th shutout of the season in dispatching Dodge City in the semis. Although the Free State defense continued to add to its impressive resume, it was the Firebirds' offense that actually got things started in Friday's victory.
Fifty-four seconds into the game, junior forward Diego Gonzalez ripped a rocket off the near post. Although the shot actually stood little chance of going in, Gonzalez's aggressive nature instantly gave the Firebirds the upper hand.
Less than two minutes later, senior forward Daniel Chance capitalized on that momentum with a perfect shot from 18 yards out that gave the Firebirds a 1-0 lead just 2:53 into the contest.
"The goal early definitely helped the momentum," Chance said. "It felt perfect. I couldn't have hit it any better."
If not for some disciplined play from his fellow attackers, Chance may never have gotten an opportunity to hit it at all. As senior Tyler Smith — king of the flip throw — drove hard with the ball to the near side of the net, he sent a pass back to the middle, where Chance stood waiting. Before reaching Chance's rocket right foot, the ball took a detour past the feet of Preston Newsome and Gonzalez, guys who both are capable of putting the ball in the back of the net. For some reason, though, neither took so much as a swipe at the ball and the slow roller found its way to Chance.
"That's what we've been working on all week," Chance said. "Getting it out wide and playing it back across. We've kind of gotten used to what we're all going to do."
Pendleton said he did not instruct his gang to start with extra aggression. The gameplan all week was for the Firebirds to play their game: sound defense and opportunistic offense. That his team was able to crack the scoreboard so quickly only added to the Firebirds' confidence. And it showed. From the minute they took the lead, the Firebirds were confident in everything they did all the way until the clock wound down 77 minutes later.
"We don't gameplan by time," Pendleton said. "I don't script the first 15 plays like some of my football counterparts might. But it was a huge goal because it put the pressure on them right away."
That played perfectly into the hands of the Firebirds, who have relied on their defense all season. The fearsome foursome in the back was again superb, as Libeer, Alan Hornbaker, Kendall Goodden and Sam Passig kept control of the middle and never allowed Dodge City to get much going near the Free State net.
Coming off of the best game of his career (10 saves vs. Blue Valley West) senior goalkeeper Jackson McClure was sharp when he had to be. He made two spectacular first-half saves that preserved the Firebirds' lead. From there, he did little more than communicate with his defense and watch shot after shot from Dodge City sail high, wide or get deflected by a Free State defender before reaching the net.
"It was a phenomenal effort defensively for us tonight," Pendleton said. "(Dodge City's) such a good technical team and they play a lot different than the other teams we've played throughout the season. We battled, we didn't give up a lot of dangerous opportunities and we forced them to shoot from 25 yards out. You're not going to lose if the other team doesn't score."
Added Chance, who's early goal proved to be the game-winner: "I'm proud of our defense. I have been all year. They've stepped it up and they're the reason why we are here."
The knockout blow came with just under three minutes to play. Just inside midfield, Passig corralled a weak clear attempt, set his feet and delivered a strike to the center of the Red Demons' box. There to greet it was Hunter Peirce, who jumped through the air and headed the ball into the net for a 2-0 lead with 2:39 to play.
"I saw Sam, raised my hands in the air and he played a really good ball in to me and I finished it," Peirce said. "That definitely sealed the deal for us. And I will never forget it."
The whole night was unforgettable for the Firebirds, even if they never actually believed they would be there.
"Wow. It's one of those things where... I'm a little bit overwhelmed at this point," Pendleton said. "Just to have an opportunity to play (today) is huge for these kids. We won, we get to play again and we'll be one of the last two teams playing on the final Saturday afternoon of the season. That's pretty exciting."
Free State (16-4) will take on Washburn Rural (19-1) at 2 p.m. today at the Blue Valley District Soccer Complex for the state championship.
Copyright 2018 The Lawrence Journal-World. All rights reserved. This material may not be published, broadcast, rewritten or redistributed. We strive to uphold our values for every story published.