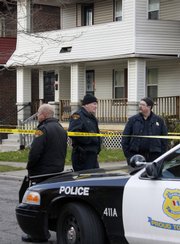 Cleveland — Suspected serial killer Anthony Sowell seemed like a "civilized person" on the April evening that Tanja Doss went up to his third-floor bedroom for a beer — until, she said, he leapt up and began choking her and threatening to kill her.
The 43-year-old woman told The Associated Press on Thursday that she survived a night of terror through a combination of calm and cajoling, prayer and trickery. But when she escaped the next morning, she didn't tell police. Her past conviction on a drug charge, she said, made it unlikely they'd take her seriously.
"Now, I feel bad about it," she said, "because my best friend might be one of the bodies."
Police and a cadaver dog re-entered the home Thursday where Sowell apparently lived among the reeking, rotting corpses of 10 women and the paper-wrapped skull of another in a basement bucket. The ex-Marine, who served 15 years in prison for attempted rape, is being held without bail on five aggravated murder charges.
Just days after her own escape, Doss was helping search for her friend Nancy Cobbs. Now Cobbs is among about two dozen missing women whose friends and family fear fell victim to Sowell.
Only three of the victims have been identified so far — Tonia Carmichael, 52, of Warrensville Heights; Telacia Fortson, 31, of Cleveland; and Tishana Culver, 31, also of Cleveland.
Doss believes she only narrowly escaped the fate of those dug up from Sowell's yard.
She had met Sowell in 2005, after his prison release, but didn't know the real reason for his sentence. She found him to be "a civilized person, sitting outside drinking beer, a nice person." So she didn't hesitate to join him for a drink.
"And then he just clicked. I'm sitting on the corner of the bed and he just leaped up and came over and started choking me," she said. Shocked, Doss said she lay back and tried not to struggle. "He said, 'If you want to live, knock three times on the floor.' And I knocked on the floor."
Still holding her throat, he told her using several profanities that she could be "dead in the street" and no one would care.
Sowell made her strip and lie on the bed, she said, but did not attempt to rape her. Doss said she curled up in a ball and tried to talk him down, saying things like, "Why you gotta act like that?"
Then she prayed to herself, and eventually, both fell asleep. She awoke in the morning with Sowell acting as if nothing had happened, she said, asking whether she wanted something from the store.
She picked up her cell phone and pretended to call her daughter, then claimed her granddaughter had the flu. When Sowell left for the store, she went in the other direction.
She didn't report the confrontation because "my background ain't squeaky clean," she said.
Now, it's all she can think about.
"It goes through my mind all the time," she said. "Every time I think about it, I start shaking."
When Cobbs disappeared — four days after her 44th birthday on April 20 — Doss didn't think about Sowell as she helped search abandoned buildings and post fliers.
It wasn't until Monday, three days after bodies had begun turning up, that Doss finally went to police.
Sowell also faces charges of rape, felonious assault and kidnapping after a Sept. 22 attack on a woman at his home. A message left with the county public defender's office was not returned Thursday.
Cleveland City Councilman Zach Reed, at a rally with two dozen clergy members, said people should stop stereotyping those who might have ended up in Sowell's house of horrors.
"I want us to stop this conversation that they were crackheads, they were this and that," he said. "They were people."
Copyright 2018 The Associated Press. All rights reserved. This material may not be published, broadcast, rewritten or redistributed. We strive to uphold our values for every story published.