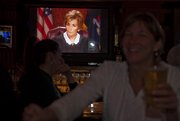 In the end, it came down to the memory of a 22-year-old bartender versus the word of a Kansas University student who admitted to giving false identification to a police officer.
Doug Holiday, owner of Biggs BBQ, 2429 Iowa, was awarded $250 by Judge Judy, the celebrity television jurist, in a case stemming from a 20-year-old KU student using a fake ID to buy beer in his restaurant during the KU men's basketball national championship game in 2008.
Charles Miller was arrested by Lawrence police and charged with possessing a fake ID and being a minor in possession of alcohol, but the charges were reduced to consumption of alcohol in public, Miller said.
Miller paid about $450, while Holiday was fined $500 for serving alcohol to a minor.
Holiday had sued Miller in small claims court in an effort to recoup the money he lost, and a producer from Judge Judy's show saw the case and invited them to the televised courtroom.
"We try to do a good job carding people, and I learned a lot about the laws during that time and since then," Holiday said. "We have to live up to a certain standard to watch people and make sure that people underage aren't drinking, and sometimes people try to get by with it and hopefully they will think twice."
Judge Judy — former family court judge Judith Sheindlin — said she couldn't be sure the restaurant had carded Miller because of the memory of the bartender, but said because the student had the intent to defraud the restaurant just by entering with a fake ID, he deserved to pay a larger fine than Holiday.
Maddie Tritsch was the bartender on duty that night and said she was nervous during the taping of the show.
"That was probably the most nerve-racking part is, I thought she was going to yell at me," Tritsch said. "She didn't get after me; she just really laid into (Miller)."
The restaurant was filled with supporters during the watch party Thursday afternoon. Along with free food and several customers dressed as Judge Judy, there were also cheers when the verdict was read by Sheindlin.
"I have talked to a couple of people in the state Legislature, and hopefully we can get some laws changed and hopefully strengthen the fake ID laws," Holiday said. "It's been fun, and it's been a good experience overall."
The restaurant also offered amnesty to anyone who wanted to shred their own fake ID, offering a $10 gift certificate to Biggs BBQ in exchange for each fraudulent ID.
Copyright 2018 The Lawrence Journal-World. All rights reserved. This material may not be published, broadcast, rewritten or redistributed. We strive to uphold our values for every story published.