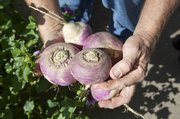 WHAT IT IS
What it is: The turnip is a root vegetable that is a member of the brassica family, which also includes broccoli, cauliflower, kohlrabi and cabbage. Both the firm, round root and its greens are edible. Try to purchase smooth, firm turnips smaller than 3 inches in diameter.
Season: October through March.
Nutrition: 1 cup of raw turnip has 36 calories, 9 percent of your daily fiber, 46 percent of your daily vitamin C and 9 percent of your daily manganese, along with 52 milligrams of omega-3 fatty acids, according to nutritiondata.com.
How to store: It's best to store turnips in a plastic bag in the refrigerator for up to one week, according to Aliza Green's "Field Guide to Produce."
As a part-time farmer, Stu Shafer sometimes has to think about saving back some of his offerings so he and his wife have something for their table at home.
When it comes to turnips, though, all bets are off.
"I mean, I can grow them, but she's not really interested in eating or cooking them," Shafer says. "That's one thing I grow that I don't have to worry about how many of them I sell rather than hold back for us to eat."
Not that Shafer is too hard-pressed to take some home. During the spring, summer and fall months that he sets up as the point person for a Rolling Prairie Farmers Alliance pick-up location, he ushers customers through the week's produce, helping them chose what to take home as part of their weekly subscription bag. And just as many weeks as turnips are on the table, he sees them passed over by those who may not be familiar or may be too familiar with their pungent, sharp flavor.
He says turnips, along with radishes and bok choy, are more often than not traded in for something else before a customer heads home.
"Usually, if you have a lot of turnips in the choices, by the end of day, there are plenty of turnips in the swap box," Shafer says. "Some people just don't like that turnip flavor."
Kevin Irick seconds that notion. Though he and his family will eat turnips for weeks on end this time of year, the owner of Irick Farms just laughs when asked how turnips perform at his Farmers' Market booth compared to popular fall picks like sweet potatoes and squash.
"They're not a big seller," Irick says. "Either people like them or they don't."
Ancient roots
Despite not being the most popular of vegetables these days, turnips have been eaten for thousands of years, serving up high levels of vitamin C, manganese, omega-3 fatty acids and fiber with each purplish-white root. It was cultivated by the Romans and Greeks and probably helped parent the rutabaga, which, botanically, looks to be the love child of a turnip and a cabbage.
And just as long as turnips have been cultivated, they've had their supporters and those who would rather not be at the same table with them.
But Shafer believes it's actually a lack of familiarity that's behind the root vegetable's current polarity. The vegetable's unknown status, he says, is coming from two separate directions — being both too old and too new. The traditional purple-topped turnip, he says, is a vegetable that was more common to folks a few generations removed from today's baby boomers. Then there's the milder Japanese turnip — snow white, small and much more likely to be eaten raw. It's something that despite its more neutral taste has suffered from the fact that it's newer to the American market, like many other less popular Asian vegetables (see bok choy above).
The result is a perfect storm that Shafer believes is keeping people away from the vegetable to begin with — people like his wife, whose first run-in with the vegetable was well-intentioned, but ended up going south fast.
"I didn't find out that I didn't like them until there were two in the fridge and I wanted to use them up. And so I put them in a big pot of soup and they ruined the whole pot," says Shafer's wife, Patti Dickinson. "They had this really strong ... I can't describe the taste. It's like a nasal ... something-in-the-back-of-your-throat kind of taste."
Ways to prepare
Strangely enough, soup is Shafer's favorite way to eat turnips. But he says many of his older customers prefer to mash and butter them like mashed potatoes. As for the Japanese type, Shafer recommends slicing them and serving them on a salad as you would a radish, or adding them to a stir-fry.
Shafer suggests trying them, because until you do, they're just an ancient vegetable with room for new foodies on either side of the debate. And though he hasn't converted his wife, Shafer can proudly say he did convert some of the Rolling Prairie customers looking at swapping out their turnips for another type of produce.
"There were two or three families one year when we started having the white turnips, the Japanese turnips, who I told them what to do with them and they came back and they wanted more. They said, 'Oh, those are good,'" he says. "They learned to like them."
RECIPES
Simple Skillet Turnips and Apples
1 tablespoon canola oil
1/2 cup chopped onion
1 medium apple, chopped (approximately 3/4 cup)
3 cups chopped turnips or rutabagas (1/2-inch cubes)
1/2 cup fresh apple cider or apple juice
1 small cinnamon stick
1/4 teaspoon salt
Heat oil in a large skillet over medium heat. Add onion and sauté for 3 to 5 minutes. Add apple and sauté 2 more minutes. Add turnips, cider or juice, cinnamon stick, and salt. Cover and reduce heat to medium-low. Stir occasionally, and add more liquid if necessary to prevent sticking. Simmer until turnips are tender, approximately 20 minutes. Remove cinnamon stick before serving. Serves 4.
— Recipe from "Rolling Prairie Cookbook" by Nancy O'Connor.
Root Stew
2 tablespoons olive oil
4 cloves garlic, finely minced
1 large onion, chopped
3 medium-sized turnips with their greens (peel and chop roots in 1/2-inch cubes, coarsely chop the greens)
1 medium-sized rutabaga, peeled and chopped in 1/2-inch cubes
2 medium-sized potatoes, chopped in 1/2-inch cubes
2 carrots, cut in 1/2-inch chunks
4 to 6 cups vegetable stock or water
5 tablespoons reduced-sodium soy sauce
1 bay leaf
Freshly ground black pepper to taste
Heat oil in a large soup pot over medium heat. Add garlic and onion. Sauté for 3 to 5 minutes. Add all ingredients except the turnip greens. Bring to a boil, reduce heat to medium-low, and simmer uncovered for 25 minutes. Add turnip greens and continue to simmer until vegetables are tender, approximately 15 minutes longer. Serves 6.
— Recipe from "Rolling Prairie Cookbook" by Nancy O'Connor.
Copyright 2017 The Lawrence Journal-World. All rights reserved. This material may not be published, broadcast, rewritten or redistributed. We strive to uphold our values for every story published.