Topeka — A proposal to abolish the Kansas death penalty will be considered by lawmakers during the second week of the 2010 legislative session, the committee chair said Wednesday.
State Sen. Thomas "Tim" Owens, R-Overland Park, and chair of the Senate Judiciary Committee, said hearings on the proposal will start Jan. 19.
"We are going to have a complete and thorough discussion of death penalty abolition," Owens said.
Efforts to repeal the death penalty failed in the Senate during the last legislative session. Some opposed the repeal while others said they were concerned that the way the legislation was written it would have also done away with the life-without-parole sentence for murder.
Kansas has not executed anyone since 1965.
11:30 a.m.
Gov. Mark Parkinson said Wednesday that he hoped to get through next year without a state tax increase.
When lawmakers return in January they will be working on the state budget for fiscal year 2011, which will start July 1, 2010. The state has suffered large downturns in tax revenue over the past year.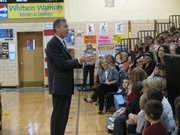 "Our hope is to present a budget that doesn't include any tax increases for (fiscal year) 2011, but in order for that to happen we need some help on the revenue side," Parkinson said.
State budget experts will meet tomorrow to project how much revenue will come into state coffers for the remainder of the current fiscal year and the next one.
Parkinson said he will make budget cuts, probably by the end of this month, to square up the current budget hole.
In earlier comments, Parkinson has said he had been considering tax increases for the next legislative session. On Wednesday, he said part of his calculation on the issue of taxes in the next fiscal year is whether he believes there is a possibility to pass an increase in the Legislature.
"Right now, I don't have a strong sense either way," he said of the Legislature's position.
8:41 a.m.
Here's Kansas Republican Party Chair Amanda Adkins' take on last night's election:
"President Obama won New Jersey, Virginia and New York's 23rd District by at least 5 percent in 2008. The Democrats' defeat in Virginia and New Jersey in Tuesday's elections is an indicator that American's want more than empty promises of hope. Voters believed in Obama's message but the change they wanted did not include a government takeover of healthcare and a so-called stimulus package that has done nothing to put Americans back to work. The close race in New York indicates that we still have work to do. We must educate voters on the pro-growth, pro-business platform that will achieve sweeping victory for Republicans in 2010."
Copyright 2018 The Lawrence Journal-World. All rights reserved. This material may not be published, broadcast, rewritten or redistributed. We strive to uphold our values for every story published.