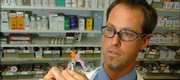 An outbreak of H1N1 Swine Flu was reported in Mexico in April 2009. By the end of May, it had spread across the U.S., with all 50 states reporting cases.
Obesity appears to be a risk factor on a par with pregnancy for developing complications from an infection with pandemic H1N1 influenza, according to the most comprehensive look yet at swine flu hospitalizations.
About a quarter of those hospitalizations complications have been in people who were morbidly obese, even though such people make up less than 5 percent of the population. That fivefold increase in risk is nearly the same as the sixfold increase observed in pregnant women, according to the report published today in the Journal of the American Medical Association.
Even the merely obese were at increased risk of severe cases of swine flu, the analysis found. Although 34 percent of Americans are obese, they accounted for 58 percent of the hospitalizations in the study.
"It makes intuitive sense," said Dr. Thomas R. Frieden, director of the Centers for Disease Control and Prevention, who noted that obese people have a higher risk of many diseases and thus a lower life expectancy. "It should be added as one of the underlying conditions."
Researchers have seen anecdotal reports that the obese might be at greater risk of complications from infection, but it has never been clear whether this was a result of obesity or of associated risk factors.
Copyright 2018 The Lawrence Journal-World. All rights reserved. This material may not be published, broadcast, rewritten or redistributed. We strive to uphold our values for every story published.