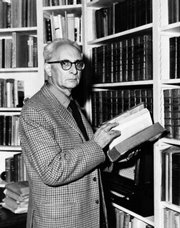 Paris — After weeks crossing the high seas, Claude Levi-Strauss breathed in his first lungful of the New World, a perfume tinged with pepper or tobacco. The sensory awakening was the start of a journey that turned a young Parisian scholar into a founder of modern anthropology.
On that 1930s trip that took him across the Atlantic to Latin America, Levi-Strauss' scholarly upbringing guided him on a methodical search for humankind's inner workings as he met tribes in Brazil's jungles. His studies would later electrify —and divide — the intellectual world with the idea that cultures share similarities underlying their myths and patterns of behavior.
Levi-Strauss' death at age 100 was announced in Paris on Tuesday. French media said he died on Friday.
Born on Nov. 28, 1908, in Brussels, Belgium, to French parents of Jewish origin, he was forced to flee France during World War II after Germany invaded and the collaborationist Vichy regime passed anti-Jewish laws. He ended up in New York, which he called "the most fruitful period of my life."
He was widely regarded as having reshaped anthropology, becoming the leading advocate of what is now known as structuralism. His ideas reached into fields including the humanities and philosophy.
Structuralism — defined as the search for the underlying patterns of thought in all forms of human activity — compared the formal relationships among elements in any given system.
Levi-Strauss' classic example was the taboo on incest, present in all societies, which he argued was man's way of promoting and preserving social harmony.
France reacted with emotional tributes led by President Nicolas Sarkozy, who called him the "indefatigable humanist" and noted his environmental side which led him to worry "about the disappearance of many living plant and animal species, and ... the impact of man's activities on the planet."
Koichiro Matsuura, director-general of the U.N.'s Paris-based cultural arm, UNESCO, said Levi-Strauss' theories "changed the way people perceived each other, striking down such divisive concepts as race and opening the way for a new vision based on recognition of the common bond of humanity."
Copyright 2018 The Associated Press. All rights reserved. This material may not be published, broadcast, rewritten or redistributed. We strive to uphold our values for every story published.