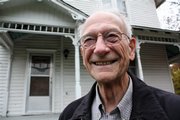 After a lifetime of hard work and service, Lawrence real estate agent Harold Marcum, 80, might be tempted to sit back and twiddle his thumbs. But he's not.
"I don't know what I'd do if I wasn't able to work and serve," the Oklahoma native says.
Poverty ended his parents' formal education in eighth grade, and they were determined their six children would do better.
"My mother insisted school came first for us," Marcum says. "Education was respected but not always expected in small rural areas. The schools' main objective was to prepare students for jobs, not professions."
Marcum enrolled at Oklahoma A&M; (now Oklahoma State) in 1947. He was the first of his family to attend college.
"I had a vague idea of doing something in engineering," he says. "I wasn't prepared for college and spent a lot of time growing up and enjoying the college atmosphere. I gravitated towards language arts, enjoyed speech and drama, and found myself doing more of those classes."
A friend suggested they join the Army Reserves. Marcum blithely agreed, since war was way off his radar. He was shocked to be enlisted into a World War II veterans' unit (from Virginia) for a tour of duty in Korea in 1951. When the unit was released nine months later, through a special government agreement, Marcum returned to college and graduated with a B.A. in education in 1952.
He taught at Edison High School in Tulsa and was mainly responsible for his "first love," play productions. He became involved in community theater and met his wife, Marcie, during a production of "Inherit the Wind" at Tulsa Little Theater.
"We had small walk-on parts, so it gave us plenty of time to connect backstage," he says with a twinkle in his eye.
They married in 1959, and Marcie went into labor with their first child during his high school's opening night production of "Babe in Arms."
He received an MFA in drama from the University of Oklahoma in 1964 and moved to Lawrence in 1965 to pursue a Ph.D. in drama at Kansas University. He discovered academia wasn't for him and secured a teaching job at Lawrence High School.
"Teaching was pure joy for me," says Marcum. "I could hardly wait to get into school each morning. The students always inspired me, and I met many wonderful people."
He says his enthusiasm started to wane in the early '70s.
"I sensed the students weren't as excited as formerly," he says. "I never wanted to just mark time, so decided it was time to hang it up."
He became a Realtor in 1972, worked for various local companies, and now works on his own and keeps his licenses and education current.

He and Marcie deliver Meals on Wheels, and he's an usher at the Lied Center.
"I've been extremely blessed with great health, wonderful family and friends, and I get to see great theater and hear beautiful music, especially the KU Symphony," he says. "I hope to keep working, serving and learning as long as I'm able."
Copyright 2018 The Lawrence Journal-World. All rights reserved. This material may not be published, broadcast, rewritten or redistributed. We strive to uphold our values for every story published.