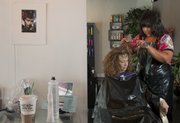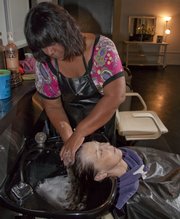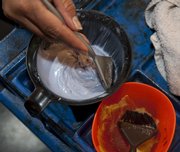 Connie Loebsack isn't a fan of her gray hair. Every four weeks, the 60-year-old Tonganoxie woman visits Head Rush Studio, 622 W. 12th St., to get her hair dyed.
"I do it for personal reasons now," says Loebsack, a sales associate at Nebraska Furniture Mart in Kansas City, Kan. "But when I was in marketing, I used to do it for professional reasons since it was a requirement of the profession."
Loebsack has been coloring her hair since she was 43. Like many women, she finds it to be an easy way to hold off the aging process.
Cora Carey, a hair stylist at Head Rush, says the bulk of the salon's clientele consists of women in the age range of 40 to 70 years.
"Head Rush specializes in highlighting and hair dyeing, so we get a lot of women who are looking to take 10 years off their age," Carey says.
But on the other side of the spectrum, there are also women who go with the mantra "gray is beautiful."
Kayla Kula, 46, says she used to color her hair but stopped a few years ago because it was too damaging on her hair. Now, she's not convinced women need to color their hair.
"There are women who have beautiful gray hair that looks very distinguished," she says. "But whether or not gray hair looks good depends on the texture and style of the hair."
Lynn Calley, a hair stylist at Head Rush, is also someone who agrees that gray hair can look beautiful.
"There are times when I, myself, ask clients not to color their hair if they've got really beautiful hair," she says.
But Calley also says it's not easy for a woman to make the decision to let her hair go gray.
"Though it's a personal choice, when a woman decides to let her hair go gray, it takes a lot of commitment," she says.
Carey advises women with colored hair to use color-care specific products, and Calley advises women to be careful about the brand of the products they use.
"It is necessary to use professional, branded products for color-treated hair," Calley says. "Using over-the-counter products will pull your hair color out and damage your hair."
Coloring chart
Plucking the occasional stray gray used to be enough. But eventually you have to quit that — or go bald. So unless you're up for gray and gorgeous, you need a strategy that's two-pronged: quick fixes for roots and a cohesive plan for long-term color.
More, the lifestyle magazine for women over 40, provides you with cost-effective tips:
• Picking the right dye for your hair depends on how much gray you have. To minimize the appearance of "salty" spots, try highlights. A semipermanent dye will work best if you have more than a little salt, and go with permanent color if a third or more of your hair is gray.
• The fastest way to touch up roots is to comb in the color using temporary hair color applied with a wand. Try Avon Advance Techniques Grey Root Touch-Up ($6). Brunettes can even get away with the use of water-resistant mascara.
• Gray hair follicles produce little oil and next to no melanin, leaving your hair looking dry. A glossing treatment is a solution. Try John Frieda Luminous Color Glaze ($10).
• The lack of moisture and melanin can also cause gray hair to become limp. A volumizing product like mousse can instantly plump up your strands. More recommends Dove Body and Lift Volumizing Mousse ($4).
— McClatchy Newspapers
Copyright 2018 The Lawrence Journal-World. All rights reserved. This material may not be published, broadcast, rewritten or redistributed. We strive to uphold our values for every story published.