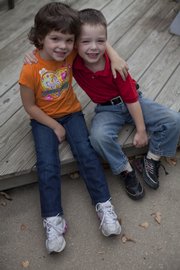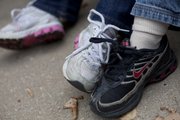 Finding shoes for children is a grueling process for parents. Kids' feet grow fast, and often the shoes get worn out well before parents are ready to look for a new pair.
While you can't stop a child's feet from growing, there are some steps you can take to ease the process.
Upon entering a shoe store, the choices are overwhelming. Narrowing the selection for your child makes the task less daunting.
"Parents get frustrated with variety," says Mandy Lang, an associate at Payless Shoe Source, 3231 Iowa. "I'd recommend parents get five different shoes and let the child choose between them."
Providing fewer options makes the decision easier for both the child and the parent. It gives the child an opportunity to still pick their own shoe, while freeing the parent from the stress of their child's indecision.
"It doesn't matter how fancy or expensive they are," says Becky Johnson, a mother to a 2-year-old, Henry. "If it fits around the heel and toes, and doesn't slip off the back, it's a good shoe."
A tried and true method for measuring kid's shoes simply requires use of a thumb.
"Always do a toe check," Lang says. "You want about a half or full thumb's width at the toe, so they have room to grow. You also want to make sure there's plenty of room in the back."
Another method to measure a child's foot is a brannock device — a metal measuring tool kids place their feet in to determine their shoe size.
"For kids, one year to 18 months, their feet should be measured every two months," says Jessica Jenkins, a shoe fit specialist at JC Penney, 3311 Iowa. "For 4- or 5-year-olds, it can be every six months."
Johnson says she only buys one pair of shoes at a time because her son's feet grow so quickly. To ensure a proper fit, Johnson does a toe check on her own.
"I have him put his foot in and feel his toes," Johnson says. "Then I look at how he walks in them. If he trips on the carpet, they're too big."
Trips to shoe stores with young children can be chaotic. Sarah Beaulieu, mother to 5-year-old Asher White, says she sometimes chooses to shop solo.
"If he's with me, I have him try them on," Beaulieu says. "But if he just grows out of them, sometimes it's easier to just get the next size up."
Kids are constantly on the go, and their shoes wear out quickly. Finding a long-lasting shoe is key.
"I look for shoes that are durable," says Beaulieu. "We've been getting Skechers lately, which seem to last longer."
For Lynn Koenig, a mother to 5-year-old twins Hayden and Rebecca, finding a sturdy shoe is the first priority.
"I look for how well it's made, and if it will wear out quickly," Koenig says. "Then I look at the stitching on the sides."
Koenig takes into consideration the fact that her kids are continually growing — and fast.
"My best advice is to get a good shoe but don't spend a lot of money," she says. "You'll just have to throw it away soon."
Copyright 2018 The Lawrence Journal-World. All rights reserved. This material may not be published, broadcast, rewritten or redistributed. We strive to uphold our values for every story published.