Editor's Note: This is the first of a three-part series on electronic medical records.
The health care industry is trying to catch up when it comes to technology.
"Other businesses have been able to figure out how to make it work, such as the finance business. You can get money wherever you go. Health care is really behind," said Helen Connors, executive director for Kansas University Center for Health Informatics.
Connors said it is unreasonable to ask patients to recall their medications and past history every time they see a doctor.
"Why are we asking the patient for that information? We can't rely on the patients or providers to remember everything, so it's got to change," she said. "I think eventually consumers are going to drive it because they are not going to put up with it."
The federal government has earmarked $34 billion in stimulus funds to address the issue.
"That's a lot of money," said Dave Garets, CEO and president of HIMSS Analytics, which collects and analyzes health care data related to information technology. "The federal government has never allocated much of any money to provide incentives to hospitals and doctors to get in gear. But boy, they did this time."
The goal is to offer incentives for health care providers to move from paper charts to computers during the next five years, and after 2015 penalize those who don't by, for example, providing lower reimbursements for Medicare patients.
Congress is working on the details with some preliminary regulations expected by year's end, Garets said.
High-tech advantages
The ultimate goal is for doctors, hospitals and pharmacies to be able to access any patient's information in a more efficient and timely manner by using electronic medical records, commonly called EMRs.
For example, if an out-of-town patient is taken to an emergency room and has allergies, an EMR would immediately alert the physician.
EMRs also allow doctors to order and see lab results at the click of a button.
Research has shown that EMRs significantly reduce medical errors.
For example, they can alert a doctor if he or she prescribes a medication that would not interact well with a current medication. EMR prescriptions also are more legible than their hand-written counterparts.
Dr. Jon White, health information technology director of the Agency for Healthcare Research and Quality, said EMRs can help doctors manage more information better and more quickly. An EMR can contain patients' medical information, lab work, the latest research in health, insurance information, pharmaceutical data and messages from other office workers, to name a few applications.
"You can still practice without those tools, and in fact, people do every day. It just becomes more challenging to do it as time goes by," he said.
High-cost process
White said doctors and hospitals have been dragging their heels on changing over to EMRs primarily because of costs.
"They are expensive. But, we think that they will get back the money that they put into it," he said. "Ultimately, everyone who successfully implements electronic medical records say they would never go back, but that's a big hurdle to get over."
The agency estimates that it costs about $30,000 for a provider that isn't in a hospital setting.
Lawrence Memorial Hospital and Kansas University both started moving to an electronic system several years ago. LMH has spent more than $12 million just for software. KU Hospital has budgeted $52 million for the entire process.
"It's probably one of the largest single activities that any hospital will pursue," said Chris Hansen, chief information officer at KU Hospital. "It's monumental, which is why there haven't been a lot of hospitals that have gotten there."
According to a 2008 survey in the New England Journal of Medicine, only 4 percent of physicians reported having an extensive, fully functional electronic records system and 13 percent had a basic system.
Hospitals are doing better.
Garets, of HIMSS Analytics, said 83 percent of hospitals nationwide have a basic system, but in Kansas, only 62 percent of the 132 hospitals do. More startling, he said, is that 29 percent — or 38 — of the state's hospitals have no basic system and have no plans to purchase one, compared with 12 percent nationally.
"That is craziness," Garets said, laughing. "It's like what, 'Are you living under a rock?'"
Connors, of KU's Center for Health Informatics, is chairwoman of the state's new e-Health Advisory Council, which is working to recommend a health information exchange plan for the state. She said some states already have a plan and are applying for federal money to begin implementing those plans. However, Kansas is applying for funding to develop a plan.
"Right now, we are fact-finding, looking at what other states have done, what do we need and what is going to be best for Kansas," she said.
The first mission is to help health professionals get electronic systems and then figure out how they can exchange that information. Ultimately, the state's systems will plug into a national one.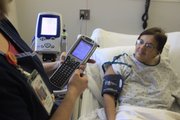 Learning curve
But, change isn't easy.
"Almost every single one of us that is out there now grew up writing words on charts, writing notes on charts and using a pen," White said. "Until not too long ago, we were taught that the pen was the mightiest instrument available to a doctor."
Dr. Sabrina Prewett, 54, medical director in the LMH Emergency Department, would agree.
In January, the emergency room will be one of few nationwide that is paperless.
"It was very challenging," Prewett said of the five-year process. She worked alongside IT personnel to implement the software and then helped train staff.
"That's why I became the one that helped develop it because if I can do it — anybody can do it," she said, laughing.
But, Prewett said it has been worthwhile. It is safer, quicker and the information is legible.
"The impetus is for patient safety," she said.
Copyright 2018 The Lawrence Journal-World. All rights reserved. This material may not be published, broadcast, rewritten or redistributed. We strive to uphold our values for every story published.