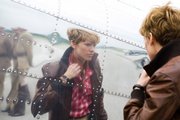 Before they became staples of the runway, bomber jackets, flight suits and protective aviator sunglasses were born in the cockpit of an early — and cold — airplane.
They were necessary in drafty flying machines with doors that were a struggle just to keep closed. But as aviation pioneers such as Amelia Earhart brought their style around the world, they sparked fashion trends that have been with us ever since.
The leather bomber jacket shown in the new Earhart biopic "Amelia" starring Hilary Swank marries function and style in a way that finicky fashion has embraced through the years, says Franco DiCarlo, executive vice president of Belstaff USA, the brand that collaborated with the filmmakers on key wardrobe pieces.
"A lot of the aviator jackets are timeless in style, and they perform under a great variety of weather. ... They say fashion is cyclical, but this is timeless," he says
Earhart had a lifelong interest in fashion, so many of the more stylish, more feminine adaptations came from her. At one point, she had her own clothing line — a second career to support her flying.
The movie's director, Mira Nair, loves the variety of style in in the film.
"If I had the figure, I'd wear the brown-leather catsuit thing she wore," she says. She'll still have her chance: Slim jumpsuits are back in designer collections for 2010.
And Nair is still mulling a leather bomber and tie-up boots for her shopping list this season. "I'm pretty amazed to see what's happening in fashion magazines. In the last six weeks, I've seen so many with the aviator look."
DiCarlo says aviator and motorcycle looks become more influential in times like this, when tastemakers and consumers have a craving for authenticity, longevity and value.
"A leather jacket is something we've done for 85 years," DiCarlo says. "It comes and goes in fashion, but it plays in our favor that it's a 'trend' that kind of lasts forever."
Copyright 2018 The Lawrence Journal-World. All rights reserved. This material may not be published, broadcast, rewritten or redistributed. We strive to uphold our values for every story published.