Photo Gallery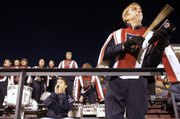 Zach Herries and Kyle Snow
Kyle Snow marches out onto Laws Field in Eudora on a recent Friday night.
He's not wearing a band uniform.
He carries no instrument.
He doesn't make a sound.
But the Eudora High School senior may very well be one of the most instrumental members of the marching band.
"It's kind of interesting being in the band without having to learn any of the music," Snow said.
The senior class president, who runs cross country, is a member of the National Honor Society and scored a 35 on his ACT, said he was never really interested in the band.
That all changed when he met sophomore Zach Herries.
"We make a great team, I think," Snow said.
Herries, a percussionist with the band, has cerebral palsy, which limits his ability to march. It doesn't affect his ability to play the cowbell, however.
"He has got that thing mastered," Snow said.
But until recently, Herries, who mainly uses a walker to get around, was stuck playing on the sidelines when the Eudora marching band took the field.
So Snow stepped up and volunteered to push Herries in his wheelchair. Snow spends his fourth hour practicing with the marching band, learning the formations and making sure Herries is exactly where he needs to be at the precise time.
"It's kind of tough," he said. "Sometimes it's hard to keep up with everybody else, but I just do what I can, and it works out."
Snow gives up his Friday nights to help Herries during the pre-game and half-time shows at Eudora's home football games. He's also traveled to a couple of the band's weekend competitions.
"It's really generous of him," EHS Band Director Mac Knight said. "He's just a great kid who wants to work hard and has taken time out of his day and his weekends to come help us. It's just a really great experience to have him with us."
Snow said when the principal first approached him about helping Herries, the two didn't really know each other. But a bond has grown between the duo during their time participating in band together.
"You could just see the friendship growing," Zach's dad, Richard Herries, said. "It was really cool."
As the two take the field, they move as one unit. Herries makes the music, while Snow handles the marching.
Communication between the two isn't a problem, even though Herries wears hearing aids, has a cochlear implant and often has a sign language interpreter with him while at school.
"I tell him what to do, and he does it perfect," Herries said.
Snow's help has made Herries a true member of the marching band.
"I think he's more engaged with everyone out there on the field," Knight said. "He feels like more of a part of the team, and we're glad that he's with us, because that's where he belongs — out on the field with the rest of us."
And Herries' parents, watching from the sidelines, agree.
"It's the greatest feeling in the world to see your kids perform," Richard Herries said. "It's really cool because the other kids, they treat him just like another kid, and that's what he is. He's just a kid who has difficulty walking, is basically what it boils down to. It's one of the greatest feelings in the world."
Copyright 2018 The Lawrence Journal-World. All rights reserved. This material may not be published, broadcast, rewritten or redistributed. We strive to uphold our values for every story published.