-->
On the street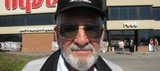 I understand that the people getting the bonus probably deserve it, but I do not believe in deficits of any kind.
Lawrence city employees may receive a special monetary thank you as city commissioners prepare to close the books on a rough 2009.
At their meeting Tuesday evening, commissioners will consider a recommendation to double the amount of the year-end longevity payment that city employees receive.
City Manager David Corliss is recommending that the payment be increased to $48 for every year of service an employee has with the city. That is up from the $24 per year that the city budgeted for in 2009, but is equal to the amount the city has traditionally paid in previous years.
The recommendation comes at a time when the city's general fund budget is expected to have a revenue shortfall of about $950,000. But Corliss and at least a pair of commissioners believe the city can afford the larger bonuses because enough cuts to city expenditures have been made in other areas.
"I think every employee has done a great job in understanding the economic times we live in, and they have worked really hard to come up with ways to save money for the city," Commissioner Mike Amyx said. "I think this is truly a way to thank our employees."
Mayor Rob Chestnut said he also was leaning toward supporting the recommendation. The proposal is projected to add $130,000 to the city's budget. Corliss has cautioned that about $30,000 may need to come from the city's fund balances, which is the city's version of a saving account.
But both Chestnut and Amyx said they will challenge staff to come up with additional cuts to avoid having a 2009 budget that is not balanced.
"I'm pretty confident we can do this and not dip into the fund balance," Chestnut said.
The recommendation also comes after city commissioners released an employee survey earlier this year that indicated morale of city workers was reaching a new low.
Commissioners meet at 6:35 p.m. Tuesday at City Hall, Sixth and Massachusetts streets.
Copyright 2018 The Lawrence Journal-World. All rights reserved. This material may not be published, broadcast, rewritten or redistributed. We strive to uphold our values for every story published.