Photo Gallery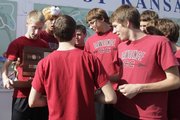 Lawrence Cross Country wins state championship
If 2008 was Woodstock, 2009 was Bob Dylan at Liberty Hall.
Armed with the expectation that they would repeat as the Class 6A state cross country champions, the Lawrence High boys did just that Saturday at Rim Rock Farm, dusting the field by 32 points to win their second consecutive state title and the second overall in school history.
After finally breaking through last year, the Lions cried, sighed, smiled and screamed. Saturday, after Kyler Thomann came running down the hill to let the team know that title No. 2 officially was theirs, the Lions had a much more subdued reaction.
It wasn't that they didn't celebrate. They did. They huddled together, chanted the name of their leader — senior Roy Wedge, who won the individual title — and sang the LHS alma mater. The difference between the two titles was not emotion. It was expectation.
"Last year, I was not expecting us to win," said Wedge, who, yet again, paced the Lions, this time in 15:43.86. "This year, we definitely knew we could do it if we went out and did our best, and it just feels good to know we did it."
Added senior Calvin Morgan, who finished 10th overall in 16:25.55: "It's easier to believe this time, but it feels just as good."
Saturday's victory was the culmination of a seasonlong quest in which the Lions felt like they were the hunted team in every meet they raced. Being hunted — as well as hungry — was what helped this team reach its now-familiar spot atop the medal stand.
"Every single thing we've done this season has been leading up to this," Morgan said. "Every single push-up, every lap on the track. We all knew that. That's why we did it."
According to LHS coach Brian Anderson, however, it wasn't just physical strength that got this team to the top.
"A big thing was keeping them healthy mentally," Anderson said. "We worked a lot on that this week, thinking positive, thinking about where you want to be and not having any regrets."
The regrets were nowhere to be found Saturday morning, but nerves certainly were. Most of the Lions admitted to being nervous prior to the race, largely because they had been eyeing the chance to defend their title for so long.
Despite the anxiety, Wedge said he tried to set the tone for the rest of his team to follow just as he so often has done on the course.
"I just kind of blew it off and said, 'I'm going to try to treat this just like another race,'" he said. "It's a really important race, but it really is just another race."
The Lions (71 team points) individually finished first, 10th, 14th (Joseph Springer, 16:31.31), 28th (Nicolas Shump, 16:58.70) and 30th (Zach Andregg (17:04.16) to cruise in ahead of second-placed Washburn Rural (103 points) and third-place Shawnee Mission Northwest (105).
As for Wedge's individual effort, he finished two seconds shy of a personal record and won by a relatively small margin — 26 seconds — compared to what he had done at most races this season. It didn't matter.
"The important thing was, I was in front of everyone else," Wedge said.
Added Anderson, of the guy responsible for the second fastest time at LHS during his coaching tenure: "The biggest thing for Roy was his mental preparation and his daily preparation. He got it all put together, he came in with confidence, he knew what he had to do, and he did it. He waited until a certain point and then said, 'It's time to pull away.' It's just neat to see someone who has that much talent do that."
The Free State High boys team finished seventh overall and was led by medal-winners Logan Sloan and Kain Anderson.
Sloan, a junior who placed 15th at state in 2008, improved seven spots this year and finished eighth in 16:21.40. Anderson, a sophomore, followed closely behind in 16th with a time of 16:35.
"We're really proud of what we've done this season," Sloan said. "Everybody stepped up and really pulled through."
On the girls side, LHS and Free State were represented solely by individuals. Free State junior Hayley Francis led all city girls runners with a 15th-place, medal-winning finish in 16:05.13.
"I changed my race strategy today," Francis said. "The goal was to start out in the middle of the pack and ease up toward the front, and that's what I did. To go to this style was a little strange, but I did my best with it."
Francis was joined on the course by teammates Morgan Flannigan (33rd, 16:32.72) and Libby Wiebe (82nd, 17:39.58).
Seniors Shelby Clark (51st, 16:59.30) and Lucy Daldorph (63rd, 17:15.36) represented the LHS girls.
Copyright 2018 The Lawrence Journal-World. All rights reserved. This material may not be published, broadcast, rewritten or redistributed. We strive to uphold our values for every story published.