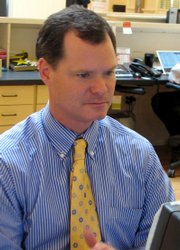 Topeka — State officials say Kansas' selection as the site for the National Bio and Agro-Defense Facility represents only the "tip of the iceberg" in attracting more research development.
Tom Thornton, president and chief executive officer of the Kansas Bioscience Authority, said NBAF is projected to have an economic impact of $3.65 billion over the next 20 years.
"Priority No. 1 for the KBA is to turn that $3.65 billion into a number that is more like $20 billion," Thornton said.
Last year, the Department of Homeland Security selected Manhattan as the location for the proposed $725 million lab to replace an aging facility at Plum Island, N.Y.
Key legislators agree that this is a critical period for Kansas to take advantage of the benefits of winning NBAF and generate more research opportunities before the lab is scheduled to be built and operating after 2015.
"If this is done right, we could look back 10 years and say NBAF was only a small part" of further animal research development, said Rep. Lee Tafanelli, R-Ozawkie.
As proposed, NBAF will be a top-level lab for the study of pathogens such as foot-and-mouth disease.
Federal officials say the lab will play a key role in protecting the United States' food supply.
Thornton says NBAF is altering the national reputation of Kansas from simply an agricultural state to a "defender of American agriculture."
He added, "The vision of ours is when you think of animal disease research, you are only thinking of one place — Kansas."
Recently, Congress authorized $32 million for site preparation and design work. More studies have been ordered to analyze safety precautions at the facility, but Thornton said construction on the facility could start this summer.
Copyright 2018 The Lawrence Journal-World. All rights reserved. This material may not be published, broadcast, rewritten or redistributed. We strive to uphold our values for every story published.