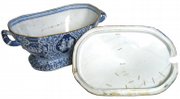 Recycling and reusing is not a new idea.
In the 18th century, well-to-do European and American families bought made-to-order dinner sets from China that were sent across the ocean in ships. It took a year to get the dishes, and if one broke it was even more difficult to get a replacement. So plates were repaired by the best system known. Small holes were drilled in each broken part and metal rivets were inserted in the holes. Then the rivets were bent to force the broken parts together. Animal glue was added to fill cracks or holes. The finished piece could be used, but it had what we now consider unsightly repairs.
A few collectors today like examples of "waste not, want not" from the past. Sometimes the repair made the piece resume its useful life. Sometimes the repair created a "make-do," a new item made from old recycled parts. An 18th-century Chelsea porcelain teapot with a replaced spout of silver, a broken candlestick transformed into a pincushion by the addition of a cushion top or a kitchen grater made from a tin cup with newly punched holes are good examples.
There are modern make-do's, too. Necklaces, pins and purses made from the pull tabs on aluminum beer and soft drink cans, cut-up cans made into rattles and colored telephone wire woven into African baskets can be bought in gift shops. They all have value because a few collectors appreciate that thrift and necessity can create interesting things that tell a story.
Q: I have a table made by the Imperial Furniture Co. of Grand Rapids, Mich. There are impressed and chalk numbers on the bottom. Can you tell me when it was made?
A: The Imperial Furniture Co. was founded in 1903 by F. Stuart Foote and was sold to Bergsma Brothers, another furniture manufacturer, in 1954. The plant closed in 1983. Imperial specialized in making quality tables — library tables, card tables, desks and even office suites, most of mahogany, some of cherry. Bookcases were added later. In the 1940s, the company made wooden airplane wings for the government. The numbers on your table indicate the style and finish. Most vintage Imperial tables sell for about $200 to $400.
Q: I have a Swirl Mixer made by Rochow of Rochester, N.Y., that belonged to my grandmother. It was a Stanley Home Products hostess gift. The mixer is swirled white, cream and clear hard plastic. I would like to know how old it is.
A: Stanley Home Products was founded in 1931 by Frank Stanley Beveridge and Catherine L. O'Brien in Westfield, Mass. Home cleaning products were sold door-to-door by sales representatives. The "party plan" was introduced in the late 1930s. Hostesses invited friends to a party that included a demonstration of Stanley products. The hostess could choose a gift from the Stanley representative. Stanley became part of CPAC of Leicester, N.Y., in 1995. Stanley's headquarters are now in Agawam, Mass. Its products for household cleaning, personal care and "wellness" are sold through home parties, the Internet and directly from sales representatives. Your plastic Rochow Swirl Mixer was probably made in the early 1950s. It's worth $10 to $15.
Q: I received a Shirley Temple doll carriage as a young girl, probably in the late '40s or early '50s. It is tan wicker with a metal frame and hand brake. The carriage is lined with fabric. Shirley's picture is on a small metal plaque on the side of the carriage and her name is written on the hubcaps. What is the carriage worth?
A: Shirley Temple, the famous child actress, was born in 1928. She made her first movie in 1932. Ideal Toy Co. made the first Shirley Temple doll in 1934. Ideal also held the license for the doll carriage, which was manufactured by F.A. Whitney Carriage Co. of Leominster, Mass. That company was founded in 1858 and was the first American baby carriage manufacturer. It made two different styles of Shirley Temple doll carriages, the wicker one like yours and a wooden carriage with an oilcloth hood. Your carriage was probably made about 1936. Thousands of items picturing Shirley have been and are being made today. If your carriage is in excellent condition, it could sell for $250.
Q: I have a vase that says "Wisc. 415" on the bottom. The Wisconsin Pottery Association says it is a piece of Pittsville Pottery. It's glazed so it looks like a pale red apple. Do you know anything about this kind of pottery?
A: John Willitzer, a Catholic priest, founded Pittsville Pottery in Pittsville, Wis., in 1931 to provide work for people in his parish. The pottery was incorporated as the Wisconsin Ceramic Co., but it's usually called Pittsville Pottery. It was in business until 1943 and made vases, a dripless pitcher and other items.
— Terry Kovel answers as many questions as possible through the column. By sending a letter with a question, you give full permission for use in the column or any other Kovel forum. Names, addresses or e-mail addresses will not be published. We cannot guarantee the return of any photograph, but if a stamped envelope is included, we will try. The volume of mail makes personal answers or appraisals impossible. Write to Kovels, Lawrence Journal-World, King Features Syndicate, 300 W. 57th St., New York, NY 10019.
Copyright 2018 The Lawrence Journal-World. All rights reserved. This material may not be published, broadcast, rewritten or redistributed. We strive to uphold our values for every story published.