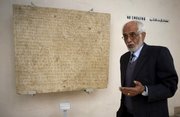 Kabul — Kabul remains on edge, with suicide bombings shattering any peace and the growing strength of the Taliban-led insurgency on everyone's mind.
Yet men in 1970s style white suits and bright shirts accompanied by burqa-clad wives still take leisurely strolls in the quieter parts of the city. Crowds in the rundown zoo watch a sleeping lion or bears lazing in the sun. And boys flying kites bring color and cheer to a sky defined by a U.S. military surveillance balloon.
The city remains steadfast, tenaciously clinging to what little is left of its better, bygone days. Today, they seem like pockets of normalcy, hidden away, almost like secrets.
The best dancer
It did not take long for everyone to realize that Mohammed Aziz was the best dancer.
The 18-year-old Kabul University student danced his heart out. His closest rivals could not keep up. One by one, they bowed out.
Alone on the dance floor and watched by a cheering, all-men audience of about 100, Aziz continued to energetically and gracefully twirl and turn with every drum beat.
He wore a white long tunic and baggy trousers, with an elegant black waistcoat on top. His long black hair fluttered in the air as he shook his head wildly. He was in a zone.
A concerned friend walked over to him. With an affectionate embrace, he stopped him and the two men quietly walked away. Aziz wore the smile of a man who has just vanquished a sworn enemy.
Thousands of Kaboulis flock to the historical Baghe Babur Gardens every Friday, seeking a respite from the grind of the city below. They picnic, play cards or Karambul, a billiard-like game played on a plywood board, or just relax on the lawns of the terraced gardens.
The gardens, home of the tomb of Babur, the first Mughal emperor, date back to the 16th century. They were a frontline during the civil war of the 1990s but were recently restored.
Every Friday, hired drummers play traditional music in the gardens. Routinely, young men gather and, sure enough, they start doing the Attan, a dance performed by a single file of men or women in a half circle.
For the men at Baghe Babur Gardens, it's an opportunity to show off and compete against other dancers.
"Dancing is very beautiful," said Aziz, flushed and out of breath after his impressive performance. "It's like a competition. I want to show that I am strong, so I keep going while the others tire and bow out."
"Good dancers also attract girls," he said with a smile.
Helping the children
Shiray was crying incessantly. His burqa-clad mother tried to soothe him, but the tears kept rolling down from the kohl-lined eyes of the 2-month-old baby boy.
Mohammed Humayoun, a community healer of sorts who says he is in his 70s, had to work faster.
He rolled out yard after yard of brown thread. He made sure that all of it touched the ancient tomb placed in the middle of the room. When he had enough, he made a bracelet of the thread, big enough for Shiray to wear on his tiny wrist.
It worked. Shiray, the youngest of seven siblings, was finally quiet. He closed his eyes and fell asleep, maybe exhausted by all the crying.
Satisfied with the result, 42-year-old baker Abdul-Manan, the father, discreetly placed a small bill in Humayoun's hand.
"I traveled a long way to come here," said the father, who uses one name. "He is crying all the time, but now, inshallah (with God's will) he will be fine."
The ancient shrine of Ashqan and Arefan — two brothers thought to have brought Islam to Afghanistan — is one of the many sites in the Afghan capital considered holy by the country's Muslim population. They are mostly tucked away in the rocky hills surrounding the city and in its old quarter.
They are places where Afghans seek spiritual solace and reaffirm their ties to centuries-old customs that are daily challenged by a world changing around them.
"Parents bring their children to me and I find something to help them," said Humayoun, in a heavy jacket with a fur collar to fend off the morning chill. "Some of the children are possessed by genies, but a charm from me banishes them."
The secret museum
Omara Khan Massoudi once kept the biggest of all of Kabul's secrets.
Now the director of the Afghanistan National Museum, Massoudi was one of a handful of curators who, fearing for the safety of the museum's priceless collection, decided in 1988 to crate as many of the more valuable pieces as possible and move them to a secret location.
Civil war broke out soon after the Soviet army withdrew from Afghanistan in 1989. The museum, a two-story structure built in the 1920s, was badly damaged in the fighting and 70 percent of its contents looted. But the hidden pieces have remained intact to this day.
A 58-year-old history graduate with unkempt silver hair but a carefully groomed beard, Massoudi tells with great relish the story of how he and colleagues saved the museum's contents.
It is a fantastic story that casts him as a hero.
But he has other stories to tell now, mostly sad.
The time has not come yet for the artifacts in the vaults to be displayed in the museum, he said in his museum office. "Kabul is better, but it's not 100 percent safe."
The museum, reopened in 2003 after extensive repairs, is reached through a dirt road punctuated by blast barriers. Across stands the ruins of a royal residence, a three-story palace that once housed Afghan kings.
The museum attracts a small number of visitors because of the expense involved in traveling from the city. Schoolchildren no longer come because government departments are not coordinating visits to the museum.
Tourists are a rarity, with three groups totaling about 50 so far this year.
"The old cultured class of Kabul has left the city over the past 30 years," said Massoudi. "What we have left is poor people struggling to feed themselves."
Copyright 2018 The Associated Press. All rights reserved. This material may not be published, broadcast, rewritten or redistributed. We strive to uphold our values for every story published.