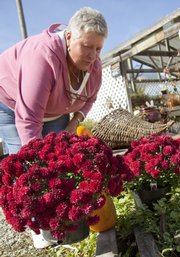 Chrysanthemums are well-known for their vibrant fall colors, but they are more than a pretty face in this season's garden: With proper planting and care, mums can provide enjoyment for years to come.
"Water, water, water," says Pam Hamill of Hamill's Country Garden Nursery, near Baldwin City. "It's a new plant. The roots are only 6 inches deep."
To reduce water needs, transplant newly purchased mums into larger pots or into the ground. The plant will still need supplemental water until its roots grow into the surrounding soil. Hamill is a big advocate of using containers — especially for busy, working people who may only have time to give their plants a drink as they walk out the door.
If you do transplant your mums into larger containers (or leave them in the original), you may wish to go ahead and plant them in the ground later this fall.
"It really depends on what kind of container you have," Hamill says. "Glazed ceramic pots need some protection from freezing and thawing, but even other kinds of pots can really be damaged by winter weather."
To plant mums, remove the pot by cutting it away from the roots or gently loosening the edges before pulling it off. The mass of roots should then be scored or roughed up a bit to encourage new root growth in the plant's new home.
Watering is important even after the mums are transplanted into an area with more root space. The best way to determine whether a plant needs water is to stick a finger an inch or more deep into the soil — if the soil is dry below the surface, add water. If the soil is still moist below the surface, wait to add water but continue to monitor the plant closely.
Hamill also warns against cutting back the tops of the plants this winter or early spring. The foliage protects the crowns and tender new growth, so it is better to wait until freezing temperatures wane.
Once the plants are actively growing, they should be cut back again to prevent early flowering and to keep the plants from getting tall and flopping over. Hamill recommends cutting back the plants as many times as you like (although once or twice is usually sufficient) until July 4. This date is usually suggested because it is easy to remember.
"Use scissors to big clippers to cut the plants back. There's no need to go at it with a tiny pair of flower snips," Hamill says.
With that simple care and an optional light dose of fertilizer in the spring, your mums should be an even brighter spot in the garden next year.
Hamill's Country Garden Nursery has specialized in mums, pumpkins, gourds and fall décor in their 14 years of operation, but the owners closed their doors at the end of this season. They will be missed.
Copyright 2018 The Lawrence Journal-World. All rights reserved. This material may not be published, broadcast, rewritten or redistributed. We strive to uphold our values for every story published.