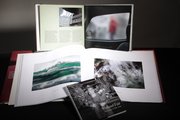 Two years ago, I wrote about self-publishing your own photo book.
Since that time, many new online companies have joined the competition, offering more print-on-demand opportunities for inspired shutterbugs. If you're like millions of other photographers who stopped getting 4-by-6-inch prints made when you switched from film to digital, you probably have a computer full of old digital images. I've found that creating and self-publishing books is a great way to get those photos into print and share with others. It's also one of the coolest things for a photographer since the invention of the Polaroid.
The process of selecting your images, designing your book and getting it printed can take a considerable amount of time. But I find it to be an enjoyable and creative process. If you have any experience working with digital photo files on your computer, you should be skilled enough to produce your own book.
I recommend that you check out online publishing sites first and choose one that feels most comfortable and has the features you require. Costs will vary from a 6-by-8, 30-page softcover book for $12.44 to an 11-by-17,160-page hardbound at $120.
The end products are all about the same, but each company has unique qualities and features. A few companies, such as Pitko and Blurb, offer step-by-step online videos and webinars for creating your book. Paperchase invites you to upload one of your photos for a free sample proof.
Here are 10 sites:
• Apple.com/ilife/iphoto/printproducts
• Lulu.com
A self-published photo book is something to be proud of and is an excellent way to preserve your images. It is also one of the most creative uses for your photographs. But beware — it is addictive.
For a video I created on using Blurb for your on-demand book, go to www2.ljworld.com/videos/2008/feb/10/17184.
Copyright 2018 The Lawrence Journal-World. All rights reserved. This material may not be published, broadcast, rewritten or redistributed. We strive to uphold our values for every story published.