Douglas County Garden Tour
When: 9:30 a.m.-5 p.m. Saturday; 11 a.m.-5 p.m. June 7
Tickets: Eight dollars in advance or $10 on the day of the tour, available at the Douglas County Extension Office, 2110 Harper St., and at many local nursery and garden centers. Location information will be distributed when tickets are purchased.
-->
-->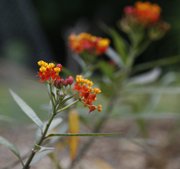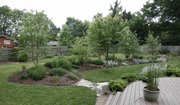 Ever wanted to take a stroll through some of Lawrence's finest private gardens, or hoped for a guided tour through the Monarch Watch Garden and Demonstration Gardens at the Fairgrounds?
This weekend's Garden Tour, sponsored by the Douglas County Extension Master Gardeners, is a rare occasion to get an inside look at a handpicked list of local gardens.
George and Terry Smith's garden is one of eight unique sites on the tour. The Smiths are do-it-yourself gardeners who have transformed an aging, overgrown landscape into an outdoor haven in three short years. Terry is an Extension Master Gardener, but both she and George enjoy the outdoors, and the garden reflects both of their interests and personalities.
The Smiths primarily choose plants based on hardiness, ease of care and friendliness to wildlife. Winterberry, beautyberry and mahonia provide winter food for birds, while a forsythia thicket in the back corner gives bunnies a place to hide.
The corners of the Smith home are flanked by rain barrels, and compost bins are tucked into what Terry calls the "utility area" of the yard.
Witchhazel, cutleaf buckthorn and bergenia are just a few of the hardy plants in the Smiths' back yard. Juncus, equisetum and coralberry grow in a newly created bog garden near an oakleaf hydrangea.
When asked if the transformation is doable for the average gardener, Terry says, "We're not into spending a lot of money on things, but it does take time."
The Smiths purchase compost and mulch at the spring and fall sales sponsored by the city of Lawrence, and they try to make smart plant choices to avoid spending money on replacements.
From the bonsai to the berm to the analemma on the back deck, this garden is full of extraordinary plants and interesting accompaniments.
Other private gardens on the tour:
• Jeanne Klein's garden: More than 130 varieties of hostas, intermingled with foam flowers, lady's mantle, coral bells and a variety of other perennials make this shade garden stand out. Visit with Jeanne and learn how she adapted her plantings as her trees matured.
• Stacey Wendland and Paulette Schwerdt's garden: Stacey and Paulette are both Extension Master Gardeners, but they obviously had some gardening skills before joining the organization. Poolside plantings, with plenty of containers, offer an array of ideas about what works in this unique setting.
• Barbara Nordling's garden: This garden has major curb appeal with masses of color, complementary colors and textures, and four seasons of interest. Barbara's love for plants shows through in the wide variety of trees, shrubs and perennials in this garden, all carefully arranged for maximum impact.
• Sue and Pat Shea's garden: Small gardens add intimacy, but the Sheas' garden is a great example of how to make the most of a small space. Sue and Pat use wandering paths, strong vertical accents and interesting focal points to lead visitors around the garden. Be sure to check out tropical selections and the refreshing water feature.
• Dan and Carol Abrahamson's garden: Terraces make the most of a hill in front of the house, but the back yard is really the Abrahamson's getaway. Brick walks lead visitors through a collection of many varieties of perennials and shrubs, accented with decorative elements that reveal Dan and Carol's personalities. This garden is a 46-year labor of love for the Abrahamsons, and their hard work shows through in the beauty of the garden.
Public gardens on the tour are the Monarch Watch Garden, 1200 Sunnyside Ave. (Kansas University campus) and the Fairgrounds Demonstration Gardens, 2110 Harper St. Monarch Watch features a variety of plants that provide nectar to butterflies and food to their larvae. At the Fairgrounds Demonstration Gardens, check out raised vegetable beds, ornamental grasses, a rain garden, a shade garden, an herb garden, a low-water use garden, a low-maintenance garden and more! Both gardens are maintained by Extension Master Gardener volunteers.
Educational talks will be available to tour visitors throughout both days of the tour. Tickets contain time and location information.
Proceeds from the garden tour and plant sale support educational programs of the Douglas County Extension Master Gardeners.
Copyright 2018 The Lawrence Journal-World. All rights reserved. This material may not be published, broadcast, rewritten or redistributed. We strive to uphold our values for every story published.