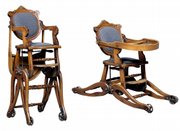 Dual-purpose furniture is not a new idea. Many unusual pieces were made in the 19th century.
Ever see a desk that became a bed? Or a chair that turned into a bathtub? Both were made in the 1880s. The best-known of the metamorphic pieces is probably a highchair that can become a child's chair and sometimes even a stroller. The highchair had a tray and was supported by legs on wheels. The legs could be lowered and the tray removed, so the chair was the right height for a child to use. Sometimes the chair's legs could be moved so the chair was on wheels and two of its "legs" became the handle of the stroller. Fun and interesting today, but don't use it for a child. The tray is positioned so a child could slip under it and the seat and back are hard.
Q: My wife and I have an S.S. Pierce Co. cheese crock. It's blue and gray salt-glazed stoneware and is 5 inches high and 9 1/2 inches in diameter. On the front there's an incised label that includes the company's name and the Massachusetts cities of Boston and Brookline. There are two dates, "Est. 1831" and "1894 Inc." Please tell us something about the crock and S.S. Pierce Co.
A: We have seen crocks like yours described as cheese crocks or butter crocks. One in excellent condition can sell for $350 or more. Silas Stillman Pierce opened his first grocery store in Boston in 1831. The company expanded into a chain of stores and was acquired by M.S. Walker Inc. in 1991.
Q: I have a pair of bookends with a figure of a seaman holding a ship's wheel. They are green and heavy and appear to be copper or bronze. The back is marked "JB 2652" and "Leonard Craske."
A: Your bookends were made by Jennings Brothers Manufacturing Co., a foundry in Bridgeport, Conn. The figure on your bookends is called "Man at the Helm" and is based on a 1925 statue in Gloucester Harbor, Mass. The sculptor of the statue was Leonard F. Craske (1882-1950). Jennings Brothers was in business from 1891 into the early 1950s, so your bookends were made between 1925 and c. 1950. The company's molds were bought by Philadelphia Manufacturing Co. in the 1960s and pieces have been reproduced using the old molds.
Copyright 2018 The Lawrence Journal-World. All rights reserved. This material may not be published, broadcast, rewritten or redistributed. We strive to uphold our values for every story published.