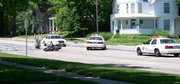 A 33-year-old Lawrence man was seriously injured Saturday afternoon in an accident near the intersection of Sixth and Tennessee streets.
Witnesses said that the motorcyclist was heading east on Sixth Street when he was hit by a woman who was making a turn from Sixth Street south onto Tennessee Street. Police received the call at 12:32 p.m.
The motorcyclist, who witnesses said was unresponsive at the scene, was flown by helicopter ambulance to Kansas University Hospital, emergency dispatchers said.
Lawrence police released Sunday the identity of the motorcyclist, Patrick Sander, a 33-year-old Lawrence man. He was driving a 2001 Kawasaki motorcycle.
KU Medical Center officials said Sunday they could neither confirm nor deny Sander was being treated at the hospital.
The accident caused traffic heading east on Sixth Street to be diverted to Seventh Street; vehicles were backed up for several blocks.
Copyright 2018 The Lawrence Journal-World. All rights reserved. This material may not be published, broadcast, rewritten or redistributed. We strive to uphold our values for every story published.