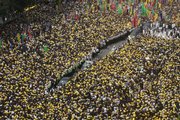 Seoul, South Korea — Anger mixed with sorrow as hundreds of thousands of South Koreans — mothers pushing strollers, businessmen and long-haired artists — flooded into the streets Friday to mourn the death of an ex-president who some say was driven to suicide by political rivals.
The massive crowd clogged several blocks of an 11-lane thoroughfare in downtown Seoul, where people sobbed and chanted anti-government slogans at a ceremony for Roh Moo-hyun. The 62-year-old liberal shocked the nation last week by jumping off a cliff amid a deepening corruption probe that targeted him and his family.
Although the mourning was mostly peaceful Friday, the emotionally charged event had the potential to blow up into bigger protests against conservative President Lee Myung-bak. Roh supporters have accused Lee's administration of pushing the aggressive probe.
Roh and his family were accused of taking $6 million in kickbacks during his presidency. He denied the accusations, but prosecutors were expected to soon announce whether they would seek to arrest him.
Many spent as much time Friday venting their rage against the government as they did paying homage to Roh.
"Rather than feeling sad or depressed, I cried so much because of extreme anger," said Choi Hee-kyung, a 39-year-old housewife. "The government led him to death."
An artist with long wispy hair taped a huge sheet of white rice paper on the ground. As a large crowd gathered around him, he dunked his head into a plastic basin of ink and used his hair to write in big, bold Korean script, "Wake up, my countrymen!"
About 21,000 riot police waited in alleys and back streets, on alert for violence while staying away from the Roh supporters to avoid provoking them.
Police estimated the crowd at 180,000, but the organizers said 400,000 and the broadcaster YTN reported 500,000.
"He was a good man," said auto mechanic Lee Seung-chul, 38, as he endured the blazing midday sun. "He did a good job, but higher, more powerful people didn't like him."
The outspoken Roh, who served from 2002 to 2008, crafted an image as a clean politician with humble roots who stuck up for common people. Young voters liked him because he promised to stand up to Washington. Others favored his policies to promote democracy, fight corruption and push for better relations with North Korea.
His official funeral ceremony was in the courtyard of the 14th-century Gyeongbok Palace in the heart of ancient Seoul.
Roh's suicide note was read aloud, including his pleas to his wife and two children not to be "too sad" and his description of his suffering as "unbearable."
Copyright 2018 The Associated Press. All rights reserved. This material may not be published, broadcast, rewritten or redistributed. We strive to uphold our values for every story published.