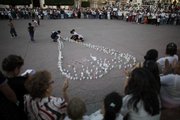 Zitacuaro, Mexico — Severed heads tossed in front of a car dealership. Bodies hurled off a bridge. Extortion threats against shop owners. It was no secret that this town popular with tourists for its monarch butterfly nesting grounds was in the grip of Mexico's drug trade.
But even the most jaded were stunned when Zitacuaro's young, charismatic mayor was arrested this week in Mexico's biggest sweep ever against politicians with alleged cartel ties.
The swift and secretive operation by federal forces netted 10 mayors and 18 other top officials in Michoacan state, escalating President Felipe Calderon's battle against cartels ahead of the July 5 national elections.
The arrests sent a powerful message to Mexico's political class that no one — not even members of Calderon's own party — is safe from prosecution.
It also drove home the extent to which drug traffickers control life in Mexico — even infiltrating tourist destinations like Zitacuaro, where American and European naturalists flock to view trees fluttering with delicate orange-and-black monarch butterflies.
The mayors are of different political stripes, including Calderon's conservative National Action Party, and the operation took place in the president's home state
Copyright 2018 The Associated Press. All rights reserved. This material may not be published, broadcast, rewritten or redistributed. We strive to uphold our values for every story published.