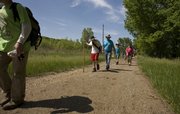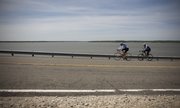 Memorial Day weekend means heavy traffic at Clinton and Perry lakes on their campsites, trails and boat ramps.
But officials at both lakes say they've got excellent recreation opportunities for visitors all summer long.
David Rhoades, park manager with the U.S. Army Corps of Engineers at Clinton Lake, says recreation opportunities are plentiful there for a wide variety of users.
The lake also includes several miles of hiking trails, including some hiking and bicycle trails at Overlook Park.
"It continues on and joins with the city of Lawrence multipurpose paved trails," Rhoades says.
He says the Kansas Department of Wildlife and Parks manages one park at Clinton Lake, as they do at Perry Lake. At the Clinton Lake State Park, there are biking and hiking trails, along with a boat marina, Rhoades says.
Clinton Lake
At Clinton Lake, people may reserve one of 400 campsites online at www.reserveusa.com.
Clinton Lake's camping includes seven different campsites at various spots around the lake.
The parks offer a variety of experiences, Rhoades says. For example, Woodridge Park offers a four-and-a-half mile long hiking trail that's more primitive, a good spot for a backpacker to set up for an evening, he says.
Some of the other sites, like those in Bloomington East Park and others around the lake, offer electric and water hookups, Rhoades says.
Boating and fishing options are also available.
"It still is a pretty good time to do some fishing," he says, noting that crappie and white bass were biting well in early May.
High water had forced the closure of some of the amenities, including the swimming beach at the lake, earlier in the month, Rhoades says, but those will open up as the water recedes.
The city also maintains a recreation area near Clinton Lake, Rhoades says, and it includes the nearby Eagle Bend Golf Course.
Officials at both lakes stress safety information for visitors to remember. Life jackets are important, obviously, but also, it's good to let family or friends know when you are headed to a lake and when you intend to return.
And be sure to take your cell phone, too, in case an emergency should arise. Boaters should also ensure they get off the lake as quickly as possible if it appears that lightning is a possibility, Rhoades says.
Perry Lake
At Perry Lake, Kenneth Wade, operations project manager for that lake's U.S. Army Corps of Engineers, says that a full weekend on Memorial Day would lead in to other opportunities later.
There's a network of trails for a variety of users, Wade says.
"We've got everything from horse trails to hiking trails to bike trails to ATV trails," he says.
The Corps is working on installing a new disc golf course at Longview Park, he says, which is the smallest of its four parks on the lake.
"We've just started it," he says, adding that plans were still in the preliminary stages. "We'd like to have it done this summer."
The lake's level remains in good shape, Wade says, even after heavy rains have battered the area. The lake had been releasing up to 6,000 cubic feet at one point, Wade says — it's now down to about 1,000 cubic feet.
The lake works closely with the Kansas Department of Wildlife and Parks to determine how to best manage the lake's water level while disrupting the fish and wildlife in the lake as little as possible, Wade says.
Camping is available at each of the four parks — Slough Creek, Rock Creek, Old Town and Longview — with Longview being the smallest of the four, Wade says.
Traditionally, people have chosen to go there usually for a more secluded experience.
"We just ask that our visitors respect each other," Wade says. Dogs are allowed, as long as they remain on leashes.
Perry Lake, like Clinton Lake, has land available for public hunting, Wade says, although he added that this time of year is not typically a peak time for hunters.
Copyright 2018 The Lawrence Journal-World. All rights reserved. This material may not be published, broadcast, rewritten or redistributed. We strive to uphold our values for every story published.