On the street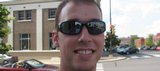 I'm very afraid of snakes because I never know if they're poisonous or not.
Lawrence police are seeking information from citizens regarding the release of non-native, venomous snakes at Haskell Indian Nations University.
Haskell Biologist Chuck Haines, on Thursday, said he spotted a "questionable" non-native viper, possibly a South American bushmaster, while responding to an anonymous tip that venomous snakes had been released on campus.
While he didn't mess with the suspected 6-foot-long viper, Haines said he did capture two small venomous snakes, but later released them elsewhere.
University officials posted signs near the wooded areas west of campus, warning people about poisonous snakes.
"Please use extreme caution when walking in areas leading to the wetlands, powwow grounds, creek bed areas and tall grassy areas surrounding our campus," a news release from the university said Thursday.
More specifics regarding the location of where the snakes were found, dumped, seen or came from was not made available by the university on Friday. Haines did not return multiple phone calls for additional comment.
Kansas University students were called in to help with the snake search on Thursday night, said Deb Thompson, Haskell safety officer.
"They didn't see anything," she said.
Locating snakes can be difficult, said David McLeod, a Kansas University biology doctoral student involved with the situation.
"To find a single snake in a large area is next to impossible, even if you're really actively looking for it," he said. "The chance of seeing a single (snake) more than one time is pretty rare."
McLeod said students would continue to look for the snake periodically, but that it's unlikely a non-native snake would survive for more than a few months.
Haines said it's not unusual for snakes to be dropped off in the wooded areas surrounding Haskell, especially in May.
"People will collect snakes in town in the springtime and drop them out here," Haines said. "Sometimes people will have collections in their own house and they'll be moving away and sometimes they just come out here and dump them."
McLeod said it's a bad idea to dump non-native snakes, adding that it can "wreak havoc on the natural system."
Venomous snakes are illegal as pets in the city of Lawrence, according to city code. Non-venomous snakes can be kept as pets, as long as they're less than eight feet long and kept on the owner's property.
But McLeod said it's not uncommon for people to keep them illegally.
"There is definitely a market for venomous snakes in captivity," he said. "It would not surprise me that numerous people keep venomous snakes in Lawrence."
Copperheads and small rattlesnakes, both of which are poisonous, are common in local natural areas, McLeod said. Anyone who comes across a snake — no matter the kind — should use caution and leave it alone, he said.
"Anytime you're out in a natural setting, you're going to have naturally occurring amphibians and reptiles," McLeod said. "So just be cautious, have your eyes open and don't panic."
Anyone with information about illegal snakes being released at Haskell can contact Crimestoppers anonymously at 843-8477 (TIPS).
Copyright 2018 The Lawrence Journal-World. All rights reserved. This material may not be published, broadcast, rewritten or redistributed. We strive to uphold our values for every story published.