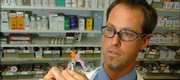 An outbreak of H1N1 Swine Flu was reported in Mexico in April 2009. By the end of May, it had spread across the U.S., with all 50 states reporting cases.
Topeka — Kansas has three new confirmed cases of swine flu, raising the total number of cases in the state to 49 since the outbreak began in late April.
The Kansas Department of Health and Environment said Tuesday that one new case was a child in Saline County, while the other two were a child and an adult in Riley County.
The health agency is updating its count each morning, reflecting changes in confirmations from the previous day.
So far, the number of confirmed cases in each county is at two in Dickinson, one in Ford, nine in Geary, 11 in Johnson, one in Ottawa, nine in Riley, four in Saline, one in Sedgwick and 11 in Wyandotte.
Copyright 2018 The Associated Press. All rights reserved. This material may not be published, broadcast, rewritten or redistributed. We strive to uphold our values for every story published.