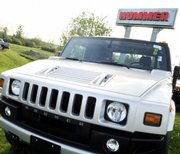 America's auto titans are dismantling their global empires. But across the Pacific, it's as if the global economic forces that have pummeled Detroit never struck. Chinese auto sales are up, and this year China is projected to displace Japan as the world's largest car producer.
Now, the auto world is buzzing that China's auto industry may try to pick up the pieces of Detroit — at a bargain.
Chinese companies have tried to dampen speculation, issuing regulatory filings that deny bids to buy Ford's Volvo or General Motor's Saab. But there's little doubt among analysts that Chinese automakers are interested in the United States and that Detroit's automakers are interested in them.
Buying up iconic brands such as Hummer or Saturn could supply Chinese automakers with the technological expertise to help them leapfrog past long-established competitors, said Kelly Sims Gallagher, a lecturer at Harvard University's Kennedy School of Government, who wrote a book on Chinese automakers.
"That's where Chinese firms are weakest," she said. "They have world-class business and manufacturing capabilities now. What they still lack is technological know-how, systems integration, being able to design new vehicles from scratch and get them to a manufacturing line."
China still suffers from its reputation of being a copycat manufacturer. An acquisition could lend clout to some of the nation's 100 car companies that are largely unknown outside their home country.
Such a deal would be "off-the-shelf legitimacy that you can purchase," said Aaron Bragman, an auto analyst with IHS Global Insight.
The global auto industry is restructuring. Italy's Fiat is on the verge of taking control of Chrysler. Last year India's Tata Motors, already famous for its $2,000 Nano, acquired Jaguar and Land Rover.
And China's auto sector has emerged as a threat to the long-standing pecking order. This year, Geely Automobile, one of China's largest private carmakers, purchased an Australian drivetrain transmission supplier, a leading gearbox manufacturer. Another Chinese company, BYD, which counts Warren Buffett as an investor, launched a mass-market plug-in electric car, ahead of GM's anticipated Chevrolet Volt.
"When we look back 20 years from now, the year 2009 is likely to be viewed as the year in which the baton of leadership in the global auto industry passed from the United States to China," Jack Perkowski, a Western transplant and former chairman of a Beijing auto parts company, wrote in his blog "Managing the Dragon."
Copyright 2018 The Lawrence Journal-World. All rights reserved. This material may not be published, broadcast, rewritten or redistributed. We strive to uphold our values for every story published.