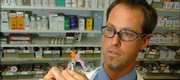 An outbreak of H1N1 Swine Flu was reported in Mexico in April 2009. By the end of May, it had spread across the U.S., with all 50 states reporting cases.
Geneva — Health experts are looking very closely at the spread of swine flu among people in Spain, Britain and Japan, a WHO official said Sunday as Japan reported a one-day explosion of more than 70 new cases, mostly among teenagers.
The swine flu epidemic is already expected to dominate the World Health Organization's annual meeting, a five-day event that begins today in Geneva and involves health officials from the agency's 193 member states.
WHO Director-General Dr. Margaret Chan will reveal experts' recommendations on the production of a swine flu vaccine sometime at the meeting. Pharmaceutical companies are ready to begin production, but many decisions have to be made first — such as how much vaccine to make, how it should be distributed and who should get it.
As of Sunday, the swine flu virus — which WHO calls the A (H1N1) virus — has sickened at least 8,480 people in 40 countries, killing 75 of them, mostly in Mexico.
Copyright 2018 The Lawrence Journal-World. All rights reserved. This material may not be published, broadcast, rewritten or redistributed. We strive to uphold our values for every story published.