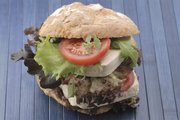 Soy, black bean, garbanzo bean, lentil, vegetable, grain: There's no such thing as your run-of-the-mill veggie burger.
If you're an omnivore looking to entertain veggie friends or a vegetarian sizing up your meat-free, between-the-bun options, there are quite a few choices these days. Here's a look and tips on how to cook them.
Soy: The traditional choice, the most popular brand is Boca Burger. These patties are the ones with the most "meatlike" taste and texture. They can be found in the frozen section of most major grocers.
And though they are popular with grocery shoppers, soy-based burgers aren't popular with local chefs, who cited everything from taste to allergens as reasons for using alternatives to the ubiquitous soy patty.
"I think a lot of people have an aversion to soy texture, myself included," says Rick Martin, executive chef at Free State Brewery, 636 Mass. "I think it works for a lot of veggie patties, but ... soy wasn't a product that we wanted to use."
Black bean, garbanzo bean and lentil: They're popular choices with restaurants, and Martin, who uses a black-bean burger, sums up why: "It created a texture we were desiring."
Simon Bates, co-owner of The Burger Stand at Dempsey's, 623 Vt., serves two made-in-house vegetarian burgers, a lentil burger and a falafel burger, which, like the Middle Eastern dish for which it's named, is based on garbanzo beans (aka chickpeas).
"We have a falafel burger, that's our main vegetarian burger," says Bates, who also offers something different with his red and green lentil burger. "The main thing is to give vegetarians a new option. Something different."
Vegetables and grain: Grain-based veggie burgers can be a great alternative for people with allergies, says Hilary Brown, owner of Local Burger, 714 Vt.
"Most of the veggie burgers that are on the market are made with wheat gluten or dairy or egg or textured vegetable protein, which is wheat gluten, and those happen to be highly allergenic foods for many people," says Brown, whose burgers are made with quinoa and millet, as well as sweet potatoes, spinach and onions. "So, I wanted to create one that was as hypoallergenic as possible. And delicious."
So, what's the best way to cook veggie patties? The methods vary, but the experts all agree to avoid an open flame.
Martin suggests if grilling out to use a griddle for the veggie burgers, which may char easily.
"Most grills you can supplement a some sort of a griddle-type of attachment," Martin says. "It works just as well, and you don't have to deal with the burning."
Brown says her favorite way to quickly cook a patty at home is in the toaster oven, which helps her avoid the mess of firing up the grill or the frying pan.
And Bates says that no matter how you cook it, go all out on the toppings.
"Keep in mind that they don't always go well with ketchup," says Bates, who suggest aioli, corn salsa or remoulade. "If you're grilling out, you might want to think of other garnishes or condiments to go with the Gardenburger."
Veggie burger recipes
Bean and Veggie burgers
2 cups red kidney beans, drained, rinsed (from 19-ounce can)
1/2 cup uncooked rolled oats
1/2 cup chopped fresh mushrooms
1/4 cup chopped onion
1 small carrot, shredded
1/2 medium red bell pepper, chopped
1 garlic clove, minced
2 tablespoons ketchup
3/4 teaspoon salt
4 lettuce leaves
4 slices tomato
4 burger buns, split
In food processor bowl with metal blade, combine beans, oats, mushrooms, onion, carrot, bell pepper, garlic, ketchup and salt; process with on/off pulses until coarsely chopped. Do not puree. Shape mixture into 4 patties, 1/2 inch thick.
Spray broiler pan with nonstick cooking spray. Place patties on sprayed pan. Broil 4 to 6 inches from heat for 10 to 12 minutes or until patties are thoroughly heated, turning once.
Place lettuce, tomato slices and patties on bottom halves of buns. If desired, top with ketchup or mustard. Cover with top halves of buns.
— Recipe from www.pillsbury.com
Garden Veggie Patties with Curried Mango Sauce
1 package rice pilaf (4 servings)
1/2 tablespoon vegetable oil
1 cup chopped onion
1/2 cup chopped red pepper
1/8 teaspoon salt
2 teaspoons peeled grated fresh ginger
1 teaspoon curry powder
1/2 teaspoon ground coriander
1/2 teaspoon cornstarch
1/2 cup vegetable broth
1 large fresh mango, thinly sliced
1 package garden-style veggie patties
1/4 cup thinly sliced green onions
Prepare rice pilaf per instructions. While rice is cooking, prepare mango sauce.
Heat oil in pan. Saute onions and pepper and until onions are translucent, stirring occasionally. Add salt, ginger, curry powder, coriander and garlic. Saute 30 seconds. Combine broth and cornstarch, add to pan. Bring to a boil and cook 1 minute, stirring constantly. Remove from heat. Stir in mango. Set aside.
Prepare garden veggie burgers per package instructions. Portion rice onto four plates; top with veggie patties, mango sauce and green onions
— Recipe from www.morningstarfarms.com.
Copyright 2018 The Lawrence Journal-World. All rights reserved. This material may not be published, broadcast, rewritten or redistributed. We strive to uphold our values for every story published.