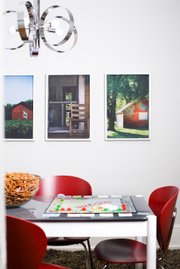 It's a question all homeowners face when they decide to sell: How can you make your home as appealing to potential buyers as possible? In today's market, that question has become even more crucial.
"It really depends how much your home is worth," says New York-based interior designer Janine Carendi. "Is it in move-in condition, and will buyers expect it to be?"
Not everyone should invest in fancy upgrades and fresh coats of paint, she says. But all homeowners can benefit from reorganizing and beautification.
Carendi and fellow designers Mallory Mathison and Brian Patrick Flynn offer some tips on making your home market-ready on a budget:
OUTSIDE HELP
Some owners hire a staging company to redecorate their home specifically to appeal to buyers. A cool twist on that idea: Flynn suggests hiring a photo stylist (a regional magazine can probably recommend one) for a fresh look.
"Home stagers are all the rage right now," Flynn says, "but magazine photo stylists are the masters at turning spaces into cover shots packed with 'wow' factor. They not only make the rooms look their best, but they also know the proper styling to suggest a room's use."
FIRST IMPRESSIONS
A good first impression won't guarantee a sale, but a bad one can scuttle it, says Mathison: "If the entry way is blase, that can set a precedent for the rest of the house."
Consider touchup painting in the entryway, and add a mirror if the area doesn't get much natural light. If the front door leads directly into your living room without a foyer or vestibule, Flynn suggests using furniture to "create the sense that you're walking into the area where you decompress." Add a bench near the door and a console where someone could drop their keys and mail.
CLEAN AND FRESH
Clean as thoroughly as you can, perhaps hiring a cleaning service for one or two visits. Pay attention to doors, baseboards, light switch plates, ceiling fans and windows. Clean all appliances, especially older ones, so they sparkle.
Other details: Bunches of fresh mint or rosemary can freshen air naturally, says Mathison. For a quick face-lift: Lightly sand the frames around your windows, then add a coat or two of white paint, Carendi says.
CLEAR THE WAY
Spend a weekend clearing off countertops and purging the home of anything you don't want or need. Box up offseason clothes and put them in storage — your closets will look bigger, and part of the packing already will be done.
Finally, think about the way it feels when you check into a good hotel room, these designers say.
"It's kind of a rule to take out two-thirds of your personal things," Mathison says. "Make it a generally inviting space, rather than something right just for your family."
Copyright 2018 The Associated Press. All rights reserved. This material may not be published, broadcast, rewritten or redistributed. We strive to uphold our values for every story published.