Photo Gallery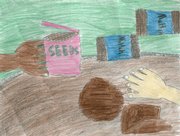 Lawrence's Nature Education for Kids contest
Lawrence students were recently challenged to put their love of nature into words and pictures.
Lawrence's Nature Education for Kids task force recently organized its first essay and illustration contest for Lawrence schoolchildren and teens.
For the essay contest, which was open to students in grades six through 12, students were asked to describe in 500 words or fewer a personal experience in nature or what nature means to them. Winners were first place, Joey Cunningham, Free State High School junior; second place, Laura Falkenstien, Central Junior High School freshman; and third place, Lucy Daldorph, Lawrence High School junior.
The illustration contest was open to students in kindergarten through fifth grades who were asked to illustrate an experience in nature. Winners were first place, Alexis Derritt, fifth-grader, Deerfield School; second place, Maria Hansen, second-grader, Quail Run School; and third place, Cole Hickock, fifth-grader, Deerfield School.
Here is Cunningham's winning essay, titled "Nature Boy":
While it would truly be impossible to explain what nature means to me in 500 words or less, for the sake of the reader I will try. Since I was a small boy nature has played a large role in my growing up. As a young child I fished for minnows with my great-grandfather on a small stream on his property. He taught me early in life about nature and how we must respect her. While I was not able to spend as much time as I would have liked with him, my time there did much to spark my interest in nature and the outdoors at an early age.
Now that I am a not-so-little boy, nature still plays a large role in my life. My interest has been enhanced in the past years and I now spend as much time as possible in the outdoors. Whether it is fishing after school or biking obscure trails in the woods, or spending a weekend in an igloo in the mountains in New Mexico, I truly feel a connection with nature.
During the summer, while my companions are slaves to their summer jobs, their cell phones, and TVs, I spend my summers working at Camp Alexander, a Boy Scout camp in the Rocky Mountains. There I teach younger scouts the Environmental Science and Mammal Study merit badge in the Nature Center. I am able to share my love and knowledge of nature with hundreds of other scouts throughout the nine weeks that I work and live in the camp. In my free time I am able to walk the surrounding valleys that are filled with aspen groves and watch the mule deer as they graze among the wildflowers. Fishing for trout in the camp's own lake is a passion that I share with many others there. There is still much I can learn about nature by simply watching the way the line floats or how a fish rises to the bait.
My adventures with the Boy Scouts have taken me to mountain peaks of the Sangre de Cristo range in New Mexico, to the valleys of the Colorado foothills, to the plains of western Kansas, and most recently, to the reefs and cays of the Florida Keys. Through these many exciting and wonderful adventures I have not only learned a little bit about myself, but I have also come to understand more and more of nature and what she has to teach us. If someone were to ask me what nature means to me, I would say she is a teacher, showing us all that we can learn about our world and ourselves. All we have to do is get out there and look.
Copyright 2017 The Lawrence Journal-World. All rights reserved. This material may not be published, broadcast, rewritten or redistributed. We strive to uphold our values for every story published.