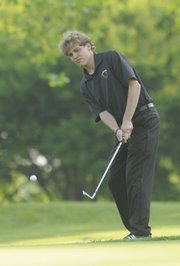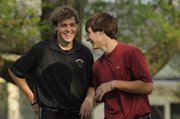 To hear Lawrence High senior golfer Spencer Scott tell it, a lot of luck went into his 71 at Wednesday's Lawrence Invitational at Alvamar Golf Course.
Through the eyes of LHS coach Dirk Wedd, however, Scott's achievement was more like Scott holding aces and eights in a cutthroat game of poker in the wild, wild West.
"He's a gunslinger," Wedd said. "If this were the 1880s, he'd be like a hired gun or something. The kid just doesn't back off. It's amazing."
Overlooking nearly every obstacle in his way, Scott carded two eagles and one improbable birdie on the 17th hole to lead all city golfers at Wednesday's tournament with a third-place individual finish. Two others tied for first with 70s.
Scott's eagles — the first on the par-5 second and the other on No. 10, a par 4 — helped his overall score (1-under par) tremendously. But neither did as much for his 71 as the amazing shot on No. 17, which struck the flag stick and fell straight into the hole for a birdie. Had his fourth shot not hit the flag, it likely would have flown the green by at least 10 yards.
"I just try to hit it close," Scott said. "And every once in a while, you get lucky. They don't write down how you did it, they just write down your score."
Scott's 71 was two strokes higher than the 69 he shot to win this tournament last season. Despite the difference, Scott said his game has come a long way since then.
"I think I'm a lot more consistent now," he said. "I hit the ball farther, and I play smarter."
Although his teammates shot rounds in the 80s — Jon Cohen 82, Tyler Kahn 82, Alex Thompson 84, Steve Melton 86 and Joe Noller 88 — the Lions hoped to challenge for a top-three team finish. They finished sixth with a 319 team score.
"It's our tournament," Cohen said. "We wanted to play well, but it's Monday (at regionals) that really counts."
That same attitude made up most of the chatter in the Free State camp. The Firebirds shot a 336 and finished 13th.
"For the most part, I'm pretty pleased," FSHS coach Matt Gudenkauf said. "There were a few individual scores that I know could have been lower, but, overall, we improved. At Leavenworth (May 11) we shot 368 and today we shot 22 strokes better. I'll take that."
Leading the charge for Free State was Connor Klutman, who shot a team-best 81. Klutman said his putting was unusually sound on Wednesday.
"It could always be better," Klutman said with a laugh. "But overall, I thought I played well. A lot of pars and a lot of bogeys."
Joining Klutman in the 80s on Wednesday were: Seth McCauley (83), Evan Schmidt (85), Parker Liebl (87) and Dale Shillington (89). Joey Sakumura filled out the Firebirds' scorecard with a 91.
Wednesday's tourney also was the conclusion of the Sunflower League tournament, which is played out over the course of two rounds — 36 holes — each year. The Lions, who shot a two-round total of 347, finished third, edging out Olathe East and Olathe Northwest in a three-way tiebreaker.
"It's a team," Wedd said. "And that's what's so cool about high school golf. Somehow, some way, it still comes down to the team and every shot counts."
Free State, meanwhile, finished sixth in league.
Wednesday was the final tuneup for both schools before Monday's Class 6A regional tournament, which will take place at Alvamar, this time on the private course.
Copyright 2017 The Lawrence Journal-World. All rights reserved. This material may not be published, broadcast, rewritten or redistributed. We strive to uphold our values for every story published.