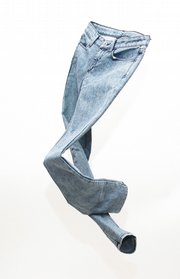 Store shelves are filled with every possible denim permutation of silhouettes, washes and detailing. And guess what? They are all fashionable.
"I think it's more about where the jean is going," says "Project Runway" mentor Tim Gunn, who recently hosted a DKNY Jeans fashion show at a Macy's near Miami. "For daytime, I think the washes should be light to distressed to medium. Of course, the more dark the jeans, the more places it can go."
So what you really need to focus on is how the jeans look on you. Here are some tips to guide you through the overwhelming choices.
• If you have curvy hips and thighs, pick a boot-cut jean, which will balance everything out and give the illusion of proportion.
"The shape of the wearer is important," says Gunn, who is also chief creative officer for Liz Claiborne's stable of fashion labels. Someone with a wide hip and a skinny waist "might find that a low-rise fits better. I always say a jean that hangs straight down from the widest part of the hip is more flattering."
• Yes, skinny jeans are of-the-moment, but "they're not for everyone," sums up Gunn. If you must, try a darker color or wash. Also pair with a loose and blousey top. Wear with a stiletto heel (elongates the leg), or stuff them inside boots (creates balance with hips and rear).
• If you want to camouflage a bit of a tummy, look for a pair that's cut higher in the back than the front in a boot-cut style with Lycra-enhanced fit.
"Lycra or some stretch in jeans make them more forgiving," Gunn says. "They expand and shrink where you need them to."
Also, the closer together the back pockets, the smaller your derriere will appear.
• The proper length for your jeans — where the hem falls — should be just skimming the shoe when you stand. This will depend a great deal on the shoes you wear with the jeans, so take that pair with you when shopping.
Copyright 2018 The Lawrence Journal-World. All rights reserved. This material may not be published, broadcast, rewritten or redistributed. We strive to uphold our values for every story published.