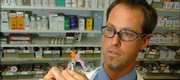 An outbreak of H1N1 Swine Flu was reported in Mexico in April 2009. By the end of May, it had spread across the U.S., with all 50 states reporting cases.
Topeka — A second soldier at Fort Riley has been confirmed with being infected with swine flu, the site considered by many historians to be the epicenter of the 1918 flu outbreak.
The new case, along with one in Ford County in southwest Kansas, raised the state total Thursday to 30 victims of the H1N1 virus.
Lt. Col. Paul Benne, chief of preventive medicine at Irwin Army Community Hospital, said the soldier lived on post and had completed a 24-hour duty assignment with another soldier, previously confirmed with the virus.
"We have identified others that may have been affected. All of them have been screened and are being watched very closely," he said.
The first soldier and his child both have the virus and live in Junction City, where they are recovering. The second soldier has been isolated in a location at Fort Riley, Benne said.
There are more than 15,000 soldiers assigned to Fort Riley, though several thousand are deployed to Iraq. Most of the soldiers live off post in Geary and Riley counties. About one-third live on post, either in family housing or several clusters of barracks.
Benne said activities at Fort Riley were continuing as normal, with no disruptions in training or other military operations. Access to the post is generally restricted to soldiers, their families, civilian employees or others with official business there.
Soldiers, families and employees are being reminded to stay home if they develop symptoms, to frequently wash their hands and to avoid touching their faces to prevent spread of the virus, he said.
The Kansas Department of Health and Environment said the other confirmed cases were two in Dickinson County, 11 Johnson County, one in Ottawa County, one in Sedgwick County and nine in Wyandotte County. KDHE officials declined to give more details about any of the cases, citing privacy laws.
In 1918, Fort Riley was the site of an outbreak where hundreds of soldiers came down with the deadly flu that by some accounts killed as many as 50 million people worldwide. According to the Kansas State Historical Society, a soldier reported ill on March 4, 1918, and within three weeks more than 1,100 soldiers were sick.
The flu is believed to have spread to the rest of the United States and Europe as soldiers who trained at Fort Riley's Camp Funston were shipped out for combat duty in World War I.
Benne said developments in medicine and the severity of the current flu strain make the situation different from conditions in 1918.
"We're quite aware of the history, and we do take it seriously," he said.
Copyright 2018 The Associated Press. All rights reserved. This material may not be published, broadcast, rewritten or redistributed. We strive to uphold our values for every story published.