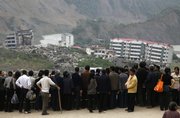 Beichuan, China — China marked the first anniversary of a massive earthquake on Tuesday in a somber, nationally televised ceremony filled with flowers and speeches, as the normally distant Chinese leadership provided an unusually cathartic public moment.
The 30-minute memorial service in front of a destroyed school in the Sichuan province town of Yingxiu followed a minute of silence that began at 2:28 p.m., the moment the magnitude-7.9 temblor shook China — and some countries beyond — on May 12, 2008.
Villages were toppled or buried and landslides raked mountains as large portions of Sichuan — where the quake was centered — and two neighboring provinces were wrecked. Nearly 90,000 people were killed or never found, and 5 million were made homeless in the deadliest earthquake to hit in decades.
"The great task of earthquake rescue and recovery reminds us again that unity is strength, that victory can only be gained through struggle," President Hu Jintao said, before leading military and civilian leaders, diplomats, students and emergency services workers in laying white and yellow chrysanthemums — traditional flowers of mourning — before a stone memorial. A trumpet played a plaintive tune in the background as officials bowed their heads in respect.
"Survivors in the quake zone are marching toward a new life," Hu said. "The party, the army and the people of all nations should be closely united to bravely overcome all the difficulties and the risk on the road ahead."
The solemn event was broadcast live on national television, underscoring the disaster's searing effect on the national consciousness. The scope and pomp of the ceremony — with Sichuan's verdant mountains as a backdrop — is usually reserved for official Communist Party events in Beijing.
The destruction triggered an outpouring of grief around China and united the country in a massive rescue effort boosted by volunteers, private donations and international aid. But it also brought to the fore a politically incendiary issue: why so many schools sank to the ground while buildings around them were barely affected.
Parents of dead students have been at the forefront of dissent with accusations of corruption and mismanagement that they say led to shoddy construction.
"Our son is dead. I don't feel like living anymore, so I am not afraid; I want to speak up," said Fu Guiqun, a 37-year-old mother in the valley town of Beichuan, which was so shattered by the quake it has been relocated.
"My son died a terrible death. Why did the school have to collapse? The buildings are so poorly constructed!" Fu said.
Her husband, Wu Zhenwei, added: "Some of the pig pens that I built 10 or 20 years ago are stronger."
The parents were among dozens of mourners who gathered Tuesday at the destroyed Beichuan Middle School, where about 1,000 students and faculty were killed.
They offered flowers and burned candles and sticks of incense amid the smoke and crackle of exploding firecrackers. Many brought pictures of their dead children and pasted notes to a metal fence surrounding the rubble, including one reading "peace to the dead, strength to the living." The tears flowed freely.
Parents gave voice both to their bereavement and continuing resentment over the government's treatment of them. Many of those who have tried to sue or petition local and central authorities have been detained or warned against speaking out.
Activists and lawyers who have tried to help them have met the same fate, and reporters visiting the area have been detained, harassed and physically threatened.
"They told us not to create trouble, so we have given up," Wu said.
Copyright 2018 The Associated Press. All rights reserved. This material may not be published, broadcast, rewritten or redistributed. We strive to uphold our values for every story published.