Bountiful picnic baskets often are jammed with sandwiches, potato salads, chips and cookies. In other words, lots of carbs.
Adding some equally portable produce is the best way to bring some dietary balance to your picnic.
Fresh fruit — especially those that travel well, such as apples, pears, peaches, plums and bananas — is an easy choice. As are low-fat cheeses, which contain plenty of hunger-quenching protein.
For snacking, pack lots of cut, fresh veggies. Crunchy carrots and celery sticks are filling and usually appeal even to kids.
Salads also are a fine way fill up with nutritious foods without adding heaps of calories. Of course, that theory only holds if those salads aren't heavy on the pasta or doused with mayonnaise.
Check out some picnic recipe ideas on page 2C.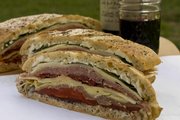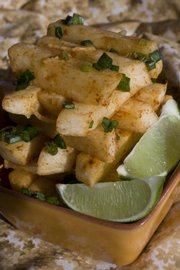 These easy-to-prepare salads take only minutes to make and can be packed in resealable plastic containers for outdoor dining. Each uses ingredients that are high in flavor but low in fat and calories.
Crunchy jicama, which has a sweet, nutty flavor, gets a zesty dusting of chili powder and a squeeze of fresh lime juice. Look for jicama in most grocers alongside other exotic fruits and vegetables.
Just a small amount of toasty-flavored sesame oil gives an Asian taste to thinly sliced fresh cucumber.
Or for more of an adventure in flavors, try the tangy, pungent beet salad, which is made with jarred pickled beets and prepared horseradish. Make this a day or so in advance so that even the red onion slices get a good pickling.
SPICY JICAMA SALAD
1 small jicama
Chili powder, to taste
3 tablespoons chopped scallions
1/4 teaspoon salt
1 lime, cut into 4 wedges
Peel the jicama and cut into 1/2-inch sticks. In a medium bowl, toss the jicama with the chili powder, scallions and salt. Serve with lime wedges for squeezing over the top. Serves four.
Nutrition information per serving (values are rounded to the nearest whole number): 122 calories; 3 calories from fat; 0 grams fat (0 g saturated; 0 g trans fats); 0 milligrams cholesterol; 29 grams carbohydrate; 2 grams protein; 15 grams fiber; 161 milligrams sodium.
SESAME CUCUMBER SALAD
1 large or 2 small cucumbers, thinly sliced
1 tablespoon toasted sesame oil
1/4 teaspoon salt
2 teaspoons black sesame seeds (optional)
In a bowl, toss the cucumbers with the sesame oil and salt. Serve sprinkled with sesame seeds, if using. Serves four.
Nutrition information per serving (values are rounded to the nearest whole number): 41 calories; 31 calories from fat; 4 grams fat (1 gram saturated; 0 trans fats); 0 milligrams cholesterol; 3 grams carbohydrate; 0 protein; 0 fiber; 147 milligrams sodium.
PICKLED BEET SALAD
16-ounce jar sliced pickled beets, drained
1 small onion red onion, halved and thinly sliced
1 teaspoon prepared horseradish
In a small bowl, toss together all ingredients. Serves four.
Nutrition information per serving (values are rounded to the nearest whole number): 61 calories; 1 calories from fat; 0 fat and cholesterol; 15 grams carbohydrate; 1 gram protein; 2 grams fiber; 58 milligrams sodium.
***
For picnic or potluck fare, a hearty grain salad can be a delicious, colorful and inexpensive option.
This seriously flavorful barley, bacon and avocado salad with roasted chicken can be served warm or cold and costs less than $1.50 per serving.
Quick-cooking barley is a convenient whole grain that has a subtle, nutty flavor and is quite filling, so it is well-suited for stretching out a main-course salad.
The recipe calls for using the meat from a store-bought rotisserie chicken, which often is cheaper than buying a whole uncooked bird. Nonetheless, you can use your own roast chicken or almost any leftover meat you have on hand.
Many grocers also offer a discount on rotisserie chickens that were cooked but didn't sell the day before. Look for these in the refrigerated section near the deli or meat counters.
BARLEY, BACON AND AVOCADO SALAD WITH ROASTED CHICKEN
For the dressing:
4 tablespoons cider vinegar
3 tablespoons olive oil
1/4 teaspoon salt
1/4 teaspoon ground black pepper
For the salad:
6 slices bacon, cut into thin strips
1 cup quick-cook barley
1/2 teaspoon salt
2 cups water
2 cups frozen corn kernels, thawed
1/2 cup coarsely chopped red onion
2- to 3-pound rotisserie chicken, skin discarded, meat remove from bones and shredded (4 to 5 cups of meat)
2 medium tomatoes, diced (about 1 1/2 cups)
1 small avocado, pitted, peeled and diced
To make the dressing, in a small bowl, whisk together the vinegar, olive oil, salt and pepper. Set aside.
To make the salad, in a medium saucepan over medium, cook the bacon until crisp, about 8 minutes. With a slotted spoon, transfer the bacon to paper towels to drain.
Discard the fat from the saucepan. Add the barley, salt and water, then bring to a boil. Reduce the heat to maintain a simmer.
Cover the pan and cook the barley until tender, about 8 minutes. Drain in a colander, pressing out any excess moisture with the back of a spoon. Transfer to a large serving bowl to cool.
Add the corn, onion, reserved bacon, shredded chicken and dressing, then toss well. Add the tomatoes and avocado and toss gently. Serve immediately or cover and refrigerate. Serves 10.
Nutrition information per serving (values are rounded to the nearest whole number): 320 calories; 134 calories from fat; 15 grams fat (3 grams saturated; 0 trans fats); 49 milligrams cholesterol; 26 grams carbohydrate; 21 grams protein; 5 grams fiber; 339 milligrams sodium.
***
This brick sandwich — a chilled and pressed Italian-style sandwich jammed with flavorful ingredients — is perfect for picnics. It is easy to assemble, looks great and feeds a crowd with about the same effort it takes to make a regular sandwich.
Brick sandwiches are thus named because they spend the night being squashed by one or more bricks set on top of them. The result is a dense, intense sandwich in which the flavors and juices meld wonderfully.
While any size sandwich could be made this way, brick sandwiches typically are made using entire loaves of bread. After pressing, the sandwich is cut into individual portions. Large, crusty Italian loaves work best.
The coating of goat cheese on the inside of the bread is an important part of the sandwich. It acts as a moisture barrier to prevent the bread from getting soggy. If you're not a fan of goat cheese, cream cheese or any spreadable cheese would work.
The fillings in this recipe are mostly Italian, but any combination of ingredients can be used. Just be sure to pat dry any high-moisture ingredients. If your bricks are too dirty for you to feel comfortable placing them in your refrigerator, cover them in foil.
Don't have time for overnight flattening? A few hours is fine, too.
OVERNIGHT BRICK SANDWICH
1 large focaccia (about a 1-pound loaf)
4-ounce log goat cheese
5 tablespoons tapenade
15-ounce jar roasted red peppers, drained and patted dry
4 ounces sliced prosciutto
5 canned artichoke hearts, drained and thinly sliced
8 slices provolone cheese
8 oil-packed sun-dried tomatoes, drained and patted dry
8 ounces sliced salami
8 large fresh basil leaves
Slice the focaccia lengthwise through the center to split the loaf into halves. Pull out most of the soft insides of both halves of the focaccia and discard or reserve for another use.
Spread half of the goat cheese over the insides of both focaccia halves, then top that with a thin spread of tapenade.
Arrange the red peppers on top of the tapenade on one half of the bread. Top the peppers with the prosciutto, then the artichoke hearts, half of the provolone cheese, the sun-dried tomatoes, salami, basil, then the remaining cheese.
Top the sandwich with the other half of the bread, then wrap it tightly in plastic wrap. Set the sandwich on a large platter or plate, then carefully set 1 or 2 bricks (as many as will fit) on top. Refrigerate for at least 2 hours, preferably overnight.
When ready to serve, unwrap the sandwich and cut crosswise into slices. Serves six to eight.
Nutrition information per serving (values are rounded to the nearest whole number): 535 calories; 274 calories from fat; 30 grams fat (15 grams saturated; 0 trans fats); 79 milligrams cholesterol; 32 grams carbohydrate; 29 grams protein; 1 gram fiber; 2,278 milligrams sodium.
Copyright 2018 The Associated Press. All rights reserved. This material may not be published, broadcast, rewritten or redistributed. We strive to uphold our values for every story published.