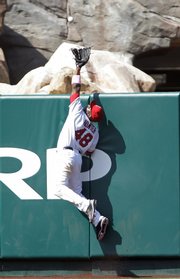 Anaheim, Calif. — According to Torii Hunter, it was the second-best catch he's ever made.
The Angels' Gold Glove center fielder made a wall-climbing, homer-stealing catch in the ninth inning to help Los Angeles hold off the Kansas City Royals, 4-3, on Sunday.
Hunter sprinted about 150 feet across left-center field, leaped in stride and went about a foot over the wall to snare Miguel Olivo's potential game-tying drive for the first out of the ninth.
"It was a nice run after the ball and I felt like I had a chance," said Hunter, who pumped his fist twice after making the catch that brought the crowd of 43,646 to its feet. "I gave it all I got and came up with it. Man, I was so pumped.
"I felt like a wide receiver did a slant up the middle and I was the free safety and I took him out. It was a lot of fun. It felt good."
Not to Olivo.
"You know what? That's just crazy. But he made a good play," Olivo said. "He's the best in the league. That wasn't his first one, and that's not going to be his last one. He does it all of the time. This time, it was to me."
The Angels have won seven of their last eight games — and 10 out of 13 — and are a half game behind the first-place Texas Rangers in the American League West.
Jeff Mathis delivered a two-run single during a three-run seventh inning for the Angels, who completed a three-game series sweep against Kansas City.
"As far as Torii had to go and how he had to time it as well as he did, that's just talent in a nutshell right there," Angels manager Mike Scioscia said. "This guy can play center field."
A football analogy wasn't the only one Hunter offered.
"If you were standing in front of the goal, I would have probably dunked on you," Hunter said, when asked how high he got. "I got up there pretty good. I felt like I could have dunked a basketball with two hands over (Shaquille O'Neal). Tell Shaq, I want him."
As for Hunter's No. 1 catch: That came in the 2002 All-Star game, when he robbed Barry Bonds of a homer at Milwaukee.
"You can't beat it," Hunter said.
Closer Brian Fuentes got his ninth save, with a huge assist from Hunter. Fuentes gave up a walk and a single after Hunter's catch, but got David DeJesus to ground into a double play to end it.
The AL Central-leading Royals, who lost three consecutive games for the first time this season, scored only four runs the entire series.
Trailing 3-1 in the seventh inning, the Angels got a leadoff single from Kendry Morales off Royals starter Kyle Davies, who had been cruising.
After 95 pitches, Davies was replaced by Jamey Wright.
Morales was thrown out stealing, but Mike Napoli followed with a walk. Howie Kendrick hit a comebacker, but Wright (0-1) turned and threw the ball into center field trying to get Napoli on a force out at second base.
"Today goes into the category of giving one away," Royals manager Trey Hillman said.
Scot Shields (1-2) pitched two scoreless innings for the victory.
Copyright 2017 The Associated Press. All rights reserved. This material may not be published, broadcast, rewritten or redistributed. We strive to uphold our values for every story published.